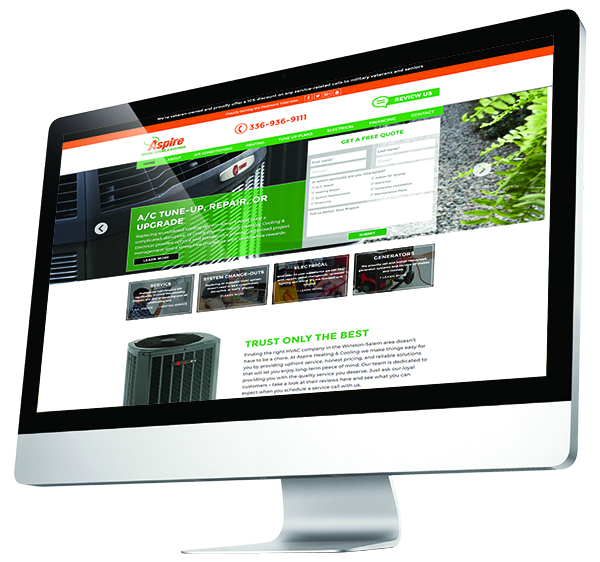 Web Design Winston Salem – Tailored to Your Business Needs
Today, when you need something you often search for it online. Occasionally, that query leads to a business with no website. Although rare, it happens. When it does, how likely are you to pursue that company? Probably not very hard. In fact, consumers expect a business to have a website. The number of companies that don't have a site shrinks every day. Obviously, as you began research for web design Winston Salem for your needs, you had the same expectations. Fortunately, whether you own an establishment that is big or small, conversionMOXY helps you meet your customer's expectations.
What Type of Site Do You Want?
Clearly, that's a pretty broad question. What type of website design do you want to build? Hmmm…well, a good one. Right? And, the answer is, yes, but not in totality. You actually need to want to build a GREAT one.
Why? The answer is simple. Good ones exist. They live peacefully on the internet and serve customers when they search for a specific company. Unfortunately, this is a gambling game of hit or miss. In fact, customers looking for your product or service will find only the great websites! More importantly, they show up because of expertly incorporated search engine optimization within their site. (For more information on SEO, see the explanation below on conversionMOXY website design services.)
The next requirement to attract customers is that your site must be mobile-responsive. Most people today do a majority of their purchasing when on their phone or other mobile device. In fact, Google ranks companies lower in search engine results, if they do not have a mobile presence!
Furthermore, you need a site that best fits your business methods. For example, if you have a brick and mortar location then you need website design for service or products. Your storefront already exists. To enhance it, attract potential customers or keep current customers, your business needs to meet today's expectations.
Or, if you primarily, or exclusively, sell products online, then you need an ecommerce site. In fact, it's imperative.
Web Design for a Brick and Mortar Business
First, let's consider a website that extends your actual store presence into the world of the internet. In this case, you must create a virtual existence that matches your business. Things that come into play are graphic design strategies, branding, useful content and cohesive marketing.
Moreover, you must meet the needs of sophisticated online customers. For instance, information must flow seamlessly. Great graphic design matters very little if your site is difficult to navigate. Likewise, that overall design must complement your marketing strategy. In other words, your website presence should be similar to what your customers already expect. Even the look and feel of the site must enhance your overall image.
E-commerce Web Design in the Piedmont Triad
Similarly, an e-commerce site works the same way. In this case, your business exists solely online. Of course, you must still incorporate graphic design strategies, useful content and cohesive marketing. However, you have an additional directive and opportunity. What you create in a virtual world is anything you desire it to be.
As you create or revamp a site like this, you have few constraints on displaying your product line. To a certain extent, it's pure freedom. Although, you must use that freedom wisely. Since customers rarely meet you in person, you must develop trust virtually. ConversionMOXY has marketing strategies to help.
ConversionMOXY Website Design Services
In either case, you may wonder why you need to hire a website designer. After all, many companies create basic websites from templates. However, a website serves no purpose if potential customers never find it.
That's where Search Engine Optimization (SEO) comes in. We have the expertise and data analytics to create content that will bring new customers to your site. After all, that's the reason you have a website!
Foremost, we work with you to understand the goals of your company. Anyone can build a site. We help extend your company from the core. Our websites are completely custom-designed for each client to suit their needs and reach their target audience.
To do this, we incorporate a simple system:
Business Goals – We review products and services crucial to your success. Also, we cover demographics and geographic areas you target.
Product/Service Review – Typically, we have you "pitch" your products and services to us. Therefore, we better understand your process so we can convey it properly in your website design.
Competitor Research – We review competitors' websites and presence strategies. Then, we run full ranking reports for competing products and services. Using this information, we develop a content strategy for search engine ranking potential.
Today, give us a call to find out more about our web design Winston Salem services – 336-245-1640.