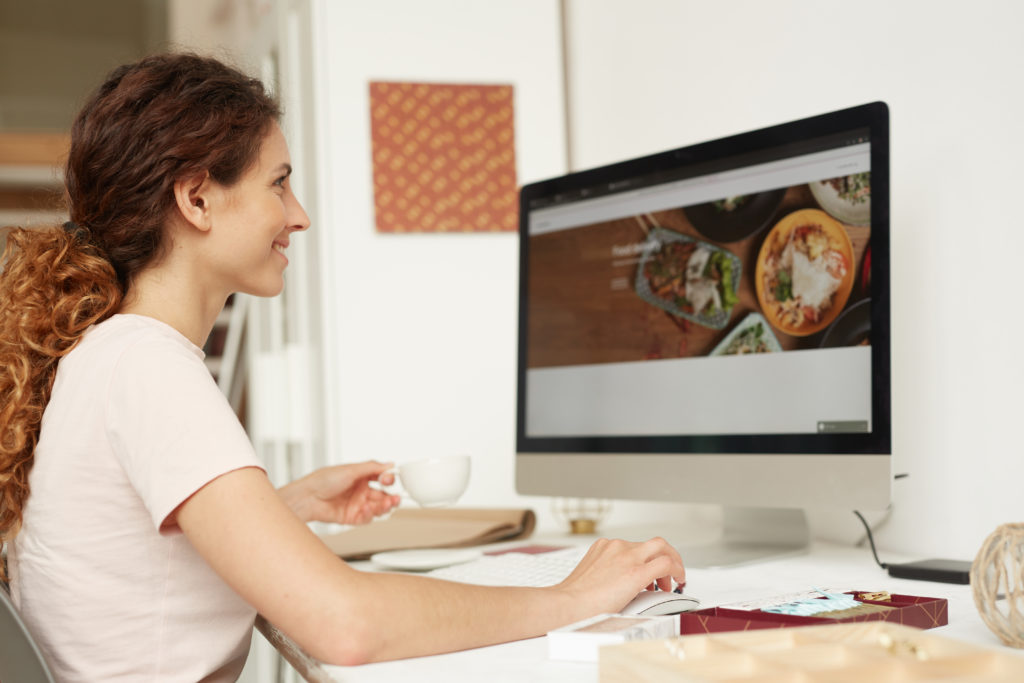 Web Presence Management – All Your Questions Answered
Do you know what the online presence of your business looks like to potential customers? If not, it is crucial to understand that information such as that is the first impression most people receive of your business. First impressions really do matter – even when it is online and not in-person. That is the heart of why web presence management and proper marketing is imperative for every business.
In today's digital age, most people either shop online or research a business online before visiting the store. Furthermore, 2020 data shows that 97% of consumers use online platforms to learn more about a local business than any other method. Do not miss out on that many potential customers by having a weak, non-existent, or poor web presence.
At conversionMOXY, our online presence management services ensure that your company is easily accessible in online searches and makes a stellar first impression to visitors. Call us today at 336-245-1640 to request a free, no-obligation quote. We are also happy to answer any questions you have on our web presence management solutions.
Important Questions to Ask About Web Presence Management
To understand what web presence management is and why it is so important to your business, it is crucial to know the answers to the below questions.
Why is online presence important?
Websites are heavily prone to snap judgements. In fact, recent data shows users form an opinion on a website in 50 milliseconds. If math is not your favorite, that amount of time equals .05 seconds. Repeat that out loud… .05 seconds. It takes longer to blink! In that extremely short amount of time when someone initially visits your website, they almost instantly form an opinion. In that blink of an eye, they decide whether they like the site and if they want to keep looking at it or not.
That quick judgement of your website is only one part of the importance of online presence. What is the other part of it, you might ask? A potential customer can't visit your website if it does not rank well on search engines. As of February 2020, 75% of online searchers do not scroll past page one of the search results. Over the years this number has continued to grow, and that trend is likely to continue in the upcoming years. Who knows, at some point pages two and beyond might be obsolete!
Here are some 'fast facts' to further show the importance of having an online presence for your business:
These are only a handful of the numerous statistics out there that clarify the value of a business not only having a presence online, but a creating a positive one! Now that you understand the importance of a high-quality online presence, it is time to dive into what an online presence management includes for a business.
How does it promote my brand?
From a web design that depicts your brand's colors, to a blog post that shares your mission and values, a strong web presence builds up your brand. An online presence allows a business to show their brand to both existing customers and any potential clients. A company builds brand awareness among a target audience anytime those people visit a corporate website or social media page. A strong brand presence helps potential clients see all the business has to offer. Brand reputation plays a role in company's web presence as well, this shows through in a business's reviews.
What does the process of online presence management include?
There are many variables to a good online presence management service. Those components include:
Custom Website Design
Search Engine Optimization
Google Placements

Map Pack
Position Zero
Adwords

Social Media Marketing
Digital Advertising
Online Reviews
Custom Website Design
As mentioned above, it is imperative to have a website that not only looks good but is user-friendly. No one wants to wait for images or content to load. This should be as instantaneous as possible. Part of that is design and the other part is having a good interface. A web design agency will assist you through this process. The goal is to develop a website you not only love, but your customers love and want to use. This service includes everything from writing code to website optimization of your content. All of which plays a role in a strong online presence.
Search Engine Optimization
What is the point of having a beautiful website if no one can find it on any search engines? In order to connect with your potential customers, it must be easy for them to find you online! Search Engine Optimization (SEO) is a method digital marketing companies use to help websites rank higher in search engines. This includes a variety of strategies, from content marketing plans to local search tactics like creating and updating business listings. Each SEO strategy is usually custom tailored to a business's needs. If you already have a website, then it is imperative to optimize all existing content on the website. The final piece of this is relying on analytics to determine the right keywords for optimization tactics.
Google Placements
Long gone are the days of simply trying for position one on Google. Today's marketing methods to rank well on Google include utilizing the map pack, aiming for position zero, and creating targeted Adwords campaigns. The goal of each of these tactics is to ultimately be at the top of Google, when someone is searching for a business like yours. If you are wondering why we focus on Google and if the other search engines matter, then we want to share a search engine fact that will answer that question. Google boasts a worldwide search engine market share of 92.18%. So, Google is the source for basically everyone using a search function, not just in the nation, but on a global scale! A digital marketing agency knows how to rank content across all search engines and devotes their efforts to getting their client at the top of Google.
Social Media Marketing
Since 1996 when social media began, various social media platforms have come and gone. Some have blown up recently like Tik Tok and some have fizzled out in the past like MySpace. However, overall social media users have steadily grown throughout the years. In 2020, social media reached a mark of 3.81 billion users across all platforms. This is a massive amount of people, and in turn, potential customers for a business.
A social media marketing agency understands the quality platforms, from Twitter to Facebook, for each business and creates custom content for a company's posts. They understand how to speak to target audiences to gain likes, shares, and comments. These all serve as yet another touch-point for potential clients before they commit to purchasing your product or service. The goal is to attract potential clients in your target demographic to interact with your business, so that you can directly communicate with them. You are constantly building a relationship and attracting them to your goods or services.
Digital Advertising
When you are trying to reach a new audience, or are not currently on page one of Google for your key terms, digital advertising is often the best choice to promote awareness of your product or service. There are many forms of digital ads, but Google display ads and ads on social media are the most common. Today, there are even more choices of formats for digital ads. One of the most popular forms of digital ads currently are video clips. A digital advertising agency creates carefully thought-out ads and displays them where it is best for the business' bottom line.
Reviews
A final, but especially important, component of a good online presence is maintaining a business's reputation through management. This includes looking at, responding to, and handling all reviews online. Here are the top four sites on which consumers currently post reviews:
Google
Facebook
Yelp
TripAdvisor
These reviews are where your clients share their thoughts and feelings about your business. They are great third-party endorsements; therefore, many people check those before choosing to purchase from a business. Inc. shared, "Research shows that 91 percent of people regularly or occasionally read online reviews, and 84 percent trust online reviews as much as a personal recommendation. And they make that decision quickly: 68 percent form an opinion after reading between one and six online reviews." This proves a good online reputation is vital to a company's future.
How do you know if your strategy is working?
The best way to track and know if this is working is the same as all other marketing methods…tracking and reporting. Both are important to growing your online presence. A business cannot grow without knowing what it is doing right and what it needs to improve. Tracking and reporting starts with having the right marketing software to analyze the data. A legitimate marketing company, such as conversionMOXY, invests in platforms that track everything from keywords to traffic. They ensure that you are constantly trying to reach new customers with different keywords for maximum ROI on their SEO efforts. You should never trust a company that doesn't review the data with you, from independent third-party software, to analyze the results of their efforts on your behalf.
Who should you hire to manage your internet presence?
At conversionMOXY, we treat our clients like family and the success of their business is extremely important to us. We listen to your needs and partner with you every step of the marketing adventure. Not only do we have the experience and knowledge to back up our work, but we provide custom reports on all our marketing efforts. Through this reporting we have detailed feedback for our clients that we provide each month on our SEO, social media, and reputation management services. That helps us determine the results of our efforts and plan the strategy for the upcoming month. You should have proof that your SEO partner is doing the necessary work for which you are paying. Many companies will take your money and not provide any proof of their work. That means you never know if they are making an effort to grow your business.
We have a proven track record of providing an unmatched online presence management service to our clients. To do that, we partner with each business owner from start to finish to ensure they have the web presence management solution they are trying to create. From establishing a social media presence to setting up business listings, we have the knowledge to complete every online presence management task a company needs.
Visit our about page to learn more about who we are and meet the members of our team. In addition to a wide range of web presence management services, we also offer a variety of other digital marketing services. Those include:
Contact conversionMOXY Today for All Your Web Presence Needs!
Still have questions about building your web presence? We've got you covered! Give us a call at 336-245-1640 or send us an email to hello@conversionmoxy.com to begin.
We will be happy to sit down with you and learn about your business. Then, we will provide you with a customized marketing quote for services that will benefit your business the most. Whether you need to build your web presence, establish social sites, develop a strong marketing strategy, or create new web content, we are a team of dedicated marketers that strive to help you build your business.