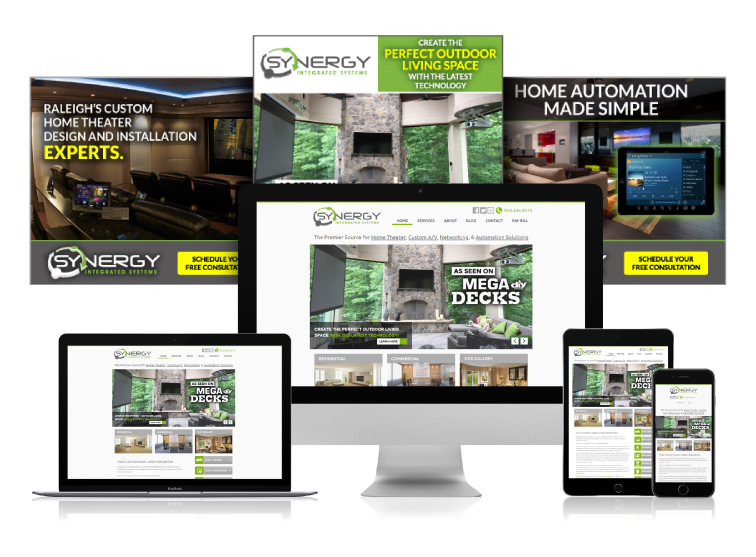 See Results with Custom Advertising Winston Salem NC
Digital advertising is an important part of any online strategy to build brand awareness and find new customers. However, if you are new to online ads it can feel like you're throwing your money into a black hole, never to be seen again. We can help! With professionally-run custom advertising Winston Salem NC businesses can see awesome results. The conversionMOXY team has experience getting a return on investment for small business owners just like you, even when previous attempts have failed.
And here's the best part: when you work with our team, we'll create a custom solution for your business, based on your exact goals. There are no cookie cutter strategies here! We know every business is unique. So, we'll develop a digital advertising plan that is unique as well.
Why Your Digital Advertising is Failing
If you are frustrated with your current advertising results (or rather, lack thereof), you are not alone. Many small and mid-sized business owners take on the task of digital advertising themselves or assign this task to their digital marketing team. The problem? Online advertising is complicated (and that's the understatement of the year). If you don't have experience, you basically have to figure it out with trial and error, which is extremely expensive. Even if you do have experience, best practices change at lightning pace.
Here are some of the biggest mistakes we see people make when it comes to their online ads:
Spending too much on digital ads
You'll be throwing your money away if your ads aren't optimized. Over time, you can (and should) increase your ad budget. However, you'll want to spend less money at first until you fine-tune your ads to make sense for your business.
Not spending enough on your digital ads
If spending too much is an advertising sin, so is spending too little. If you don't put enough money into advertising, you can't collect enough data to figure out what is working and what is not. We'll help you determine exactly how much to spend and where. Then, we'll fine-tune your ads to increase your return on investment. We can't do that if the budget is too small to collect any meaningful stats about your ads performance.
Ads without a sales funnel
Okay, so you have ads… but where do they take people? Are you tracking the sales you get from ads? Do you track repeat customers? What about leads that eventually turn into sales over time? If you don't have a way to track the success of your ads through a sales funnel, you will have no idea if they are working.
Focusing on one type of ad or one ad platform
You can advertise on Facebook, Instagram, Pinterest, Twitter, and other social networks. Additionally, you can run pay per views/click ads through Google, work with influencers, purchase banner ads, run video ad spots on Youtube, and more. You don't have to be everywhere, but if you are focusing on one type of ad or one platform, you might be missing potential customers in other places. We can help you determine where to spend your money. Not every advertising opportunity is right for every business.
Making changes too quickly
If something isn't working immediately, it is tempting to make changes. However, some techniques take time to work properly. We frequently see businesses making big changes to their ad strategy every week or even every day. This can be a mistake. Of course, you don't want to continue to throw money into a strategy that isn't working, so it is a fine line to walk.
This isn't a comprehensive list of ad issues, but hopefully gives you an idea of how complicated digital advertising can be.
Our Comprehensive Approach to Digital Marketing, Web Design, Online Branding, and Advertising
Here at conversionMOXY, we've found that ads work best when they are used in conjunction with all your online efforts. This is part of the reason we're able to provide such good results for our clients: we do it all!
At one point, advertisers could work in a silo. In other words, an advertising team could simply create ads and run them. They didn't have to consider what the rest of the company was doing. Today, your advertising team has to work closely with your marketing, branding, web design, and even sales and customer service teams. Otherwise, you won't make much headway when it comes to reaching your sales goals.
We provide everything you need for your business's online presence, which can help you reach your goals faster. We won't just create your ad. We'll drive more views through organic (aka unpaid) social media marketing. We'll create a perfectly designed website with a landing page to capture leads and an online store if you need one. We'll even ensure your branding is on point before the ad campaign starts in the first place.
Our team has experience in all these areas and more. We can also work with any in-house team members you have to make sure your marketing and advertising work hand in hand.
Targeting a Local Audience? No Problem!
Are you looking for custom advertising Winston Salem NC residents will love? We can help you attract local leads and sales. After all, if you provide a local service, such as lawn care or home improvement, it doesn't really help you to get more Facebook fans from Australia. You want to attract those local North Carolina residents who might actually hire you or buy your products.
When we set up your advertising, we target potential customers that make sense for your business location. We do those through a process that keeps your ad budget as low as possible.
In addition to setting up digital ads that target local customers, we can also help with other local marketing tasks. This includes:
Making sure you can get found with Google's Local Map Pack, so people see your business before your local competitors
Using search engine optimization so your website shows up in "position zero" for terms relating to your location essentially allowing you to be in the best search engine position
Posting on social media to attract local followers, likes, comments, and shares
We can also use a variety of other marketing techniques to help you find customers in addition to the customers you gain with paid ads. While we recommend that every business has an ad budget, we can also help you find customers organically, without spending additional money, through proper SEO and social marketing.
We Can Also Help You Attract a National or International Audience
Many of our small business clients do want to attract a small audience in Winston-Salem or the North Carolina Triad. However, if you have big dreams to attract a bigger audience, we can help you too. If you provide remote services or products that are easily shipped, you might want to attract website views from across the country or even around the world.
In this case, we still need to narrow down your target market. We might not want to target people who live in a certain location, but we'll target other demographics. For example, maybe you want to target people in a certain age range. Maybe you want to attract homeowners. Or maybe you want to find people with certain hobbies or interests. We'll help you determine exactly what type of person is most likely to become a customer or client.
Don't worry if this isn't something you've thought about in the past. Many of our clients didn't have a clear idea of their target market in mind when they came to us for help. We'll help you determine what makes the most sense for your goals. We can get very specific with our targeting, so your ads show to the people who are most likely to spend money with your business. We can even help you attract customers in other countries, if that's what is best for your business. Whatever your goals, we can set up effective advertising for your business.
Retargeting: Making the Most of Your Ad Budget
Have you heard of the "rule of seven"? Basically, this is a rule the movie industry developed in the 1930s. Through research, they learned that people needed to see ads seven times before they would see a movie. Since then, many marketers believe this rule to still be true. People need to see information about a brand, product, or service at least seven times before they'll take action.
At the very least, we can confirm that the more times someone connects with you, the more likely they are to buy! So, part of the work we do ensures that people see your ads more than once. We do this through a process known as retargeting. With retargeting, we can ensure that the people who are most interested in your products/service see your ad multiple times.
Have you ever visited a website or searched for a product and then suddenly you see ads for it everywhere? This happens, in part, because of retargeting. Retargeting uses a tracking process to display your ads to people who are already potentially interested in your business. These ads are typically very effective, and if you aren't using them, you are missing out on an awesome advertising opportunity.
The good news? You don't have to guess which customers are most interested. We'll create a custom website with landing pages that do the hard work for us, automatically.
Custom Advertising Winston Salem NC Tracking and Reporting
What sets us apart from other advertising and marketing firms? Well, in addition to providing comprehensive services, we also ensure that our clients get a full report every month, complete with the stats that really matter.
With digital advertising, there are endless different metrics you can use to track your activity and results. We track them all. But here's the thing: not all those stats matter. Sometimes, the stats people track are just white noise. Your time is limited; our reports get to the heart of the matter to show you the stats that make the most sense for your business goals. You get to do a deep dive into the data that matters, while still tracking other stats you might need in the future as your goals evolve.
In addition to comprehensive monthly reports, our clients have access to a custom dashboard. You can log in at any time to see up-to-date analytics. Are your digital ads bringing in leads? Can people find your website on search engines? Is your social engine marketing effective? How much are you spending? You can see all this and more in real time via your dashboard.
We also track your reputation. With our easy-to-use tools, we allow you to see what people are saying about your business across all review sites and social networks. You can quickly respond to any negative comments or questions, as well as add the best reviews to your website. Additionally, our tools give you the ability to reach out to your current customers and ask them to leave a review. Many people only remember to leave a review for something if they have a bad experience. We want to remind your happy customers to leave reviews as well.
Why Hire Us
Our tracking and reporting isn't the only thing that sets us apart. Here at conversionMOXY, we take pride in our customer service. You aren't just a number to us. You're a part of the conversionMOXY family.
We like to think of our work together more of a partnership than a traditional business relationship. As you work on your business goals, we keep up to ensure your ads stay relevant and effective.
Are you ready to get started? We would love to talk to you about your business goals and give you a free quote based on your specific advertising needs. Click the "request a quote" link above to get in touch.