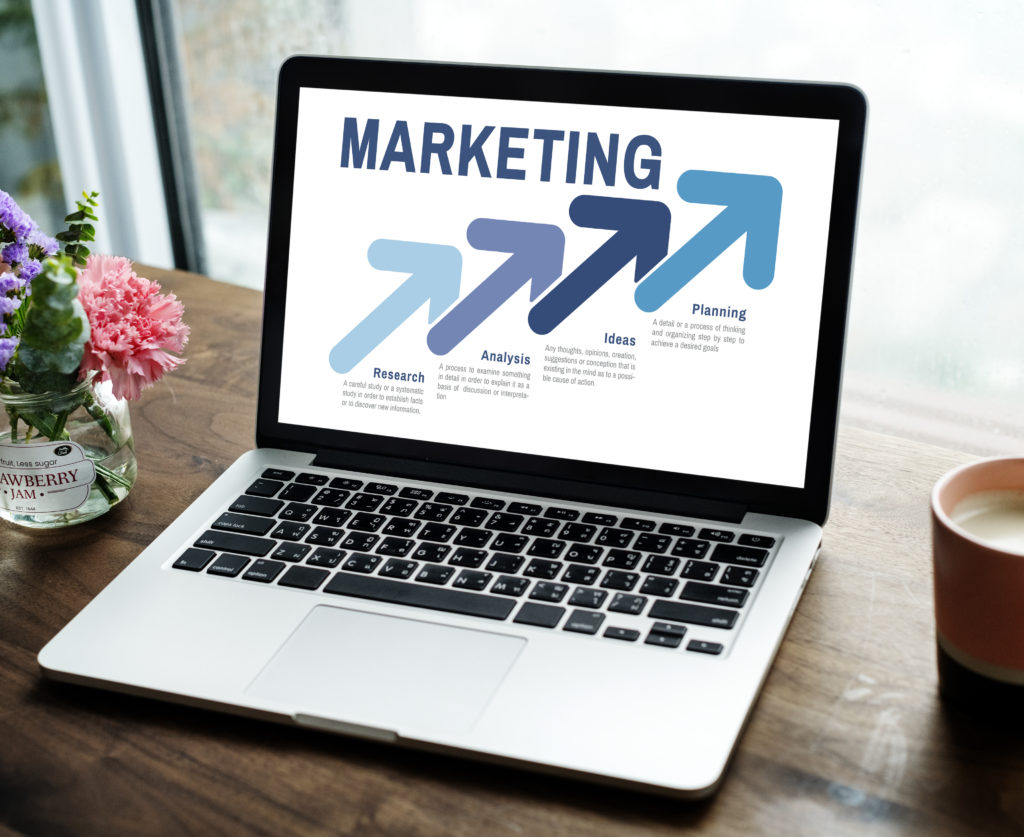 Digital Advertising Is Easy With the Right Marketing Firm
When you have your own business, you know that you must spend some money on advertising. Basically, you want to let people know about your products or services. Before the advent of computers, this involved billboards, mailers, and magazine ads. With the explosion of the internet, advertising has changed. Now consumers can learn about companies through organic and paid search, social media, and banner advertising. If all this sounds confusing, you need the digital advertising experts at conversionMOXY to simplify things for you.
Is Digital Marketing Better Than Traditional Types of Marketing?
In advertising, it isn't always which is better, but which one reaches your target audience more effectively. Depending upon your business and ideal client, you may want to focus your efforts in one area over another. Sometimes, you may decide you want a mix of both for your business.
For any type of ad campaign to be successful, you have to know how to reach your ideal client – your target audience. These people need your products and want to hear from you. Knowing how to reach them and speaking their language is the art of advertising.
So, before you start any type of marketing campaign, you need to make a blueprint of your ideal client. Who is most likely to benefit from your products or services? What platforms are these people using? The more specific you are, the easier it is to target your audience.
Benefits of Digital Marketing
While traditional advertising focuses on printed material, radio, and television ads, digital marketing is all online. One of the important benefits is you have the potential to reach a much larger audience. Thus, you can increase your brand awareness on a much bigger scale.
Moreover, you can track the results of your efforts. Using information-gathering programs like Google Analytics, you can see what drives users to your website. You can see the performance of your online campaigns and which content people click on the most.
Also, you can improve conversion rates, which is your main goal for your advertising dollars. Converting a visitor to your website into a customer is critical to increasing sales. As you gather data about your clients, you can create offers to help guide them through the sales funnel. For example, when a potential customer first visits your website, you can offer a free e-book. The next time, a form to complete and eventually a sales coupon. Additionally, you can find the holes in your sales funnel. Analytic programs can tell you where and when users left your site.
What Are Some Examples of Digital Advertising?
The purpose of any type of advertising is to communicate the benefits of your company and products to the consumer. Digital advertising is any type of content posted online that delivers brand awareness, generates leads or sales. So, SEO, content marketing, social media posts, and videos are all examples of digital advertising.
Many people use the internet to make purchases or research a company before hiring them. Thus, having an online presence has become crucial in the success of your business. However, the internet is constantly changing, and a digital advertising firm must adapt with it. For instance, trendy social media platforms come and go. Search engines modify their algorithms. You must keep up with the changes or consumers will never find you. Since your competitors are all attempting to reach the same audience, you must stay ahead of them. You accomplish that with increasing traffic to your website and analyzing the data about your visitors. Having a website is only the beginning. If no one finds your site among the millions of websites available, you won't increase your sales at all.
What Are Pay Per Clicks (PPCs)?
Traffic to your site consists of 2 types, organic and paid. Organic traffic arrives at your site through good SEO (Search Engine Optimization) practices. While good SEO is essential, it does take 4-6 months before you see results. Often, businesses engage in paid digital ads to boost exposure quickly in search engine result pages (SERPs).
A PPC campaign can give you positioning at the top of SERPs and traffic in a short amount of time. PPCs are a form of marketing in which advertisers only pay a fee when a user clicks on their ad. Google, Bing, Yahoo, and Facebook ads all use the PPC model.
How Do PPC Ads Work?
Advertisers set up the PPC based on a keyword and a budget. The search engine uses a metric of 2 components, to determine if you appear in SERPs. Both your bid amount or cost per click (CPC) and your overall quality score affect your placement.
When setting up your PPC ad, you need to start with keyword research. Keywords are words people use when posing a query in a search engine box. Knowing the phrases your audience uses to find products similar to yours helps you to connect with them. However, some keywords are highly competitive and difficult to rank. You need to compare your keywords for ranking volume and opportunity.
Once you've selected your keywords, you need to set a budget. If you set too small a budget, your potential customers may never see your ad. Conversely, setting too high a budget will eat up all your profits. Choosing the optimal bid will result in a satisfying return on your investment.
Finally, your quality score is very important in the success of your PPC ad. Search engines calculate your quality score based on several key factors. Some key factors are the relevance of your keywords, quality of your landing page, and the copy in your ad.
Other Forms of Digital Advertising
Although PPC ads are very popular, there are other forms of digital advertising. Display ads, native ads, and social media content all are forms of digital advertising. Knowing which one to use goes back to understanding your target audience.
Display ads are a form of the PPC model. You may also see marketers refer to display advertising as banner ads, although these generally conform to a specific size. Advertisers only pay when a user clicks on their ad. However, where PPC relates to SERPs, display ads appear on related websites. With PPCs, users are actively seeking your product. While display ads try to capture the attention of users while they surf the web.
Native ads are paid advertisements that feel like the natural content on that particular platform. They can take the form of articles, infographics, and videos. Because they don't appear to be advertisements, the click-through rate and engagement tends to be higher.
Doesn't it seem like everyone engages on some type of social media? According to the Pew Research Center, around seven in ten Americans use social media to stay connected. Facebook and YouTube are the most popular followed by Twitter, Pinterest, Instagram, and LinkedIn. The majority of these users visit these sites at least once a day.
Posting content, running contests, and engaging with your followers on social media helps drive traffic, brand awareness, and conversions. You can even extend your reach by posting paid digital advertising on these platforms. But which social media platform should you focus your energy on? Again, this is where your ideal client's profile is crucial. With a detailed profile in place, you'll know exactly where to find your target audience.
Is Geofencing Right for My Business?
It depends. If your business is strictly e-commerce, geofencing will not work. However, if you have a brick and mortar store, geofencing can be an effective tool. With geofencing, you can target existing customers to increase your return on investment (ROI).
So how does it work? Using GPS technology, the marketer creates a geographic boundary. For instance, you may want to set up a virtual boundary of a 25-mile radius around your store. Then, you create triggers that sent a message to your customer's mobile device when it enters this area. And with Americans checking their phone once every 12 minutes on average, it's likely consumers will see your message.
There are multiple applications of geofencing. If you're running a special, customers will know about it when they near your store. You can increase customer loyalty with personalized messages or coupons to entice buying. And geofencing is very effective. Retail TouchPoints (RTP), an online publishing network for retail executives, conducted a survey to find out. Their study shows 57% of consumers would likely shop at a store if they received coupons and notifications of specials.
Do I Need A Website to Digitally Advertise?
The short answer is no. You can digitally market your business without a website. However, having a website can enhance your company and help persuade consumers to purchase your product.
With the internet at our fingertips with mobile devices, many consumers will research a company before making a purchase. Some studies indicate 81% of consumers will investigate a store online before buying. Moreover, consumers judge a business more credible and trustworthy when they have a website. If they search for your website and don't find one, they will quickly find your competitors' sites.
By including testimonials on your website, you increase consumer confidence. Additionally, customer reviews may explain the benefits of your product or service. Plus, testimonials give an overall rating of the experience of doing business with your company. This in turn leads to more conversions.
How Do You Find the Right Digital Marketing Agency for Your Company?
Now that you've decided to undertake a digital advertising campaign, you need a qualified digital marketer to help you. With all the different options available, your choices can be overwhelming. And advertising is expensive. Start by defining your goals and setting your budget before you start looking for a marketing agency.
Your company's goals should have very specific objectives. Determine exactly what it is you hope your ad campaign to accomplish. Do you want to increase traffic by a designated percentage? Or increase conversions or brand awareness? Next, set your ad spend budget outlining limits on spending and how you want the funds used. Consider the return on investment (ROI) for each platform and prioritize what's important.
Finally, consider the marketing firm. Go to their website and look at their pages. Does their copy resonate with you? Is their strategy for getting results in alignment with yours? Look at their testimonials and the types of businesses they've worked with in the past. Ask to see some of their past work and how they achieved their goals. And, as with hiring any other business, be sure to check their references.
Choose A Marketing Firm with Digital Advertising Experience
Experts predict consumer reliance on the internet to continue to grow. In order to stay competitive, a business must have an online presence and a digital ad is one solution. Websites and social media platforms are great ways to build company awareness. You may want to spend money on digital advertising to increase traffic and conversions. When searching for a marketing agency to handle all your digital advertising needs, choose conversionMOXY.
Started in 2011 by John Van Schaik, we're a full-service marketing firm. Our agency can handle all your advertising needs from traditional to digital marketing. We start with a review of your business to determine your strengths and weaknesses. Then, we develop a marketing strategy that is specific to your needs and budget. One that is trackable so that you can easily see your ROI.
We can customize a banner ad, Facebook ad, or Google ad that drives traffic and converts. Using advanced technology, we'll show you data and statistics to improve your sales. Plus, our dashboard puts all your data into one easy-to-view tool.
Give us a call right now at 336-245-1640 to set up an appointment for a free review of your company. Whether you need custom website design, SEO, social media advertising, or content marketing, we have the experience to achieve the results you need in order to grow your business.