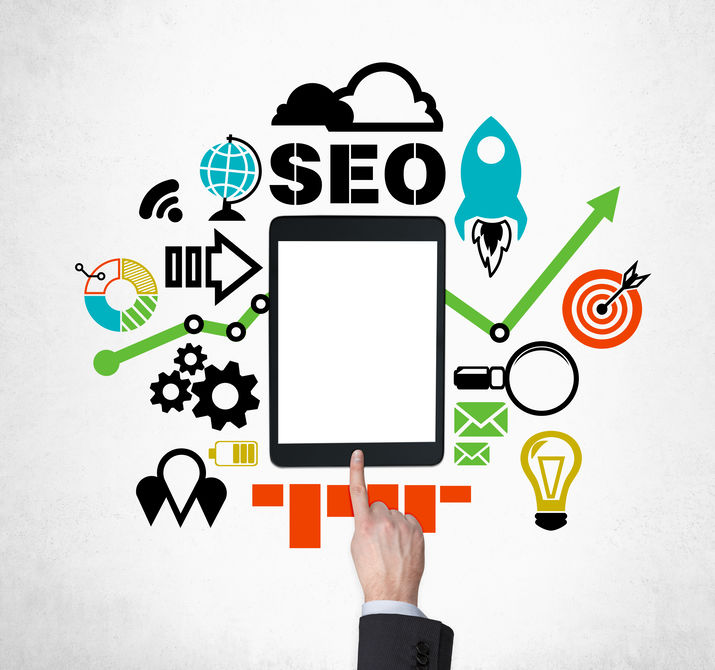 Finding the Prime Spot in Search Engines with Expert SEO Tactics
Long past are the days when word of mouth and catchy signage were the best tactics to bring customers to your doorstep. While those two methods remain imperative, new ways to attract clients proliferate. Especially, this is true on the internet. If you're not properly using the internet, you are missing chances to share your brand online and increase profits. One of the best ways to do this is by perfecting your SEO. Once you perfect it, your business will reach the prime spot in search engines, so that current and potential customers can find you.
Clearly, you can't perfect your SEO until you take the first step of understanding it. Therefore, let's explore some frequently asked questions about SEO.
What is SEO?
First, let's break down the definition. SEO stands for search engine optimization. Wikipedia states that SEO is:
"the process of increasing the quality and quantity of website traffic by increasing the visibility of a website or a web page to users of a web search engine".
This definition in itself begs multiple other questions.
What is a Search Engine?
This first query is relatively simple. A search engine is the tool you use when looking up information on the internet. For instance, Google is a search engine. When you type Google.com into your browser, you are led to the Google search console. That empty bar at the top is where you can type in your question or keywords that relate to what you're looking for. Google's algorithms then determine the ranking (place on each page of results) of every website pertaining to your search criteria.
Is SEO Hard to Learn?
Yes, and no. How's that for an answer?
On a very basic level, learning SEO requires an understanding of how search engines work. Then, you need to tailor your content to cater to their web crawlers and methods of calculating data. Much of this process involves the use of keywords or key phrases. Discovering popular keywords isn't terribly complicated with the use of a proper keyword tool. A search engine tool helps you identify what keyword, or multiple keywords, that you should use often in your web content.
Once you get the keyword aspect down, a few other challenges exist in your SEO endeavor. For one, each search engine has a tendency to change their methods. While it doesn't happen every few days, it can occur every few months. Consequently, you must stay on top of your SEO tactics and research what methods bring organic traffic your way the most efficiently.
Furthermore, while keywords are an integral part of SEO basics, other factors come into play as well. You must consider backlinks, internal links, meta tag practices, readability, anchor text and other technical SEO requirements. Of course, each search engine has its own algorithms to calculate where each website ranks and that is where the site appears on search results.
If this already seems overwhelming, don't stop reading. Our team at conversionMOXY can help. We deal with search engine optimization on a daily, and sometimes nightly, basis! If you don't want to think about it, we will. In fact, we enjoy thinking about. We thrive on conquering it. We delight in helping you understand it. So, let's move forward and do just that by giving you a brief guide to SEO.
Definitions for Search-Engine-Related Terms

Before we get too far ahead of ourselves on search engines' practices, let's go over some words that you need to understand. Once you get these definitions, you'll better grasp the other aspects that search engines incorporate to bring you organic traffic.
Off-Page SEO – This term refers to all the things you do in the background to raise visibility of your website in search engines. While many users think off-page SEO is solely about building links, there is more to it. For instance, when you reach out and ask someone to link from their webpage to your webpage, you aren't changing something within your actual website.
On-Page SEO – Anything that you do within your website is on-page SEO. Creating internal links, using keywords, etc. incorporates this tactic.
Black Hat SEO – Always, this is a method to avoid. If a company suggests it, we advise you to call us. In the end, black hat SEO represents stuffing your page with keywords, private link networks and behavior that may cause your website to be flagged by search engines. Flags aren't good.
White Hat – Essentially, white hat SEO is the opposite of black hat SEO. This technique involves optimization strategies while following search engine rules and practices.
Organic Traffic – Getting people to come to your website without paying to get them there is a wonderful place to be. Akin to planting seeds and watching your garden grow, creating a solid base to encourage organic traffic saves time and money in the long run.
Anchor Text – These are the clickable words that use hyperlinks to connect to other locations on the web.
Title Tag – This is the HTML element that is the clickable headline for a result given in search engines.
Meta Tag – When you see all of your results after an online search, you'll notice a brief description under the headline. This is a meta tag.
Link Building – All methods of using links, internal and external, to increase visibility of your website is link building.
Internal Links – These are links that lead users to internal content within your website. Once you get a customer into your website world, it's wise to keep them there. Moreover, internal links help SEO.
Inbound Links – This concept goes back to off-page SEO. Inbound links lead users to your website from outside sources. They are also known as backlinks.
Schema Markup – A little more complicated than the other definitions, schema markup refers to a structured data vocabulary.
Google Analytics – Basically, Google analytics is a tool to measure and track data to review performance.
Webmaster Tools – This represents any tool you use to evaluate and maintain your website's performance in search engines.
Web Crawlers – Also known as spidering, web crawlers are an automated program that provides up-to-date data on the web.
Keep in mind, you don't have to fully understand this dictionary of information if you plan to hire a company to enhance your search engine traffic. However, it is useful to at least grasp these concepts so that you can ensure the company that you choose is on the same page as you. At conversionMOXY we allow you to know as little or as much as you want to know. We get that you have a million other things to worry about. Let us conquer SEO (search engine optimization) for you as you conquer your own tasks.
How Often Should You Blog to Increase Ranking?
Creating content within your website isn't just about what's on the landing page that tells your customers about you. Since you must utilize internal links, having a blog is imperative. Within each blog post, you can add internal links that increase your SEO score. The higher that SEO score is, the higher you rank in search queries.
As far as how often to post blogs, you must make sure that your blog content is worthy first. Peppering your content with a ton of keywords seems like an easy and enticing strategy. Unfortunately, it doesn't work. Google search is onto that tactic. Their algorithms will kick your website right out from the world of organic search results.
To avoid a resounding kick to the curb, you need to use writing strategies that make blogs easy to read. This is another place where methods get a bit complicated. Without going into too much detail, keep a few things in mind.
Avoid passive voice. Here's a quick example. Passive voices aren't liked by search engines. (That's the wrong way to say it.) Search engines don't like passive voices. (That's the active way to say it.)
Keep sentences short and sweet. Attention spans are brief. When you bury readers in words without pause, their mind wanders. Help them focus. Be succinct. Period.
Use bullet points or numbering. Communicating large amounts of information is challenging. If you want users to stay on your website, you need to organize information for them. Bullet points and numbering enhances readability.
Utilize headings. Similarly, headings enhance readability. However, that's not the only reason to use them. Most search engines like headings and better recognize content with multiple headings.
KISS. While some have another phrase for this acronym, we prefer to say Keep It Simple & Succinct. Unless your audience is already technically inclined, readers shut down when information is difficult to understand. Write to your audience on a level that you feel they can understand.
Blogs are also a fantastic way to utilize social media. Facebook, Instagram and other social media platforms provide a useful opportunity to give customers information. Rather than providing a link to an outside source, you should incorporate useful information into your website. It makes little sense to send potential customers into the rabbit holes of search engine land. You need to send them directly to you. If you don't, they may end up with a competitor.
Can I Handle These Tasks on My Own?
The good news is that we have a more definitive answer to your question about learning SEO. Yes, you can do it on your own. Current SEO tools on the market will guide you. The question you should actually ask yourself is whether or not you have time to properly study and incorporate SEO into your content. Not only that, but do you want to spend a lot on the various software platforms you will need in order to organize and study the many elements of SEO.
As we previously mentioned, SEO is indeed complicated and changes frequently. Keeping up with trends and new techniques is time-consuming. Recognizing that time is money remains key. Therefore, finding a company that saves you both time and money in the long run may be your best strategy. After all, your business depends on your full attention to running it day-to-day. Do you want to take the necessary time away from your core business to handle your own SEO?
What Should You Consider When Hiring an SEO Expert?
If you're considering hiring an SEO expert to aid you in this strategy, you must choose carefully. As you do that, consider our talent and expertise at conversionMOXY. We take a complete approach to reach your audience at all levels including social media and other platforms. To do so, we incorporate numerous steps.
Plan
In this stage, we provide extensive research into your competition. Then, we perform a full-site audit of your web presence. Based on our findings, we develop a complete SEO strategy. Essentially, this is the backbone of your campaign. Accordingly, this includes keyword strategies as well as directory listings and back-link integration.
Build
Next, our experienced SEO technicians clean up any items we find during the audit. Additionally, we work with your marketing team to improve call-to-action items. At this point, we also clean up any inaccurate listings and create over 65 listings on high-value sites.
Drive
Finally, we focus on site content. After all, establishing your brand as a trusted source is one of the most important elements of SEO. Likewise, our team integrates search-engine-friendly back-links into your site. Similarly, diverse marketing material builds your brand as well. Therefore, we continually add new content to social media and video platforms.
We fully understand that all of this information is a lot to take in. Therefore, we provide consultation services and will talk you through what you wish to know. To set up an appointment, give us a call at 336-245-1640. We look forward to hearing from you!