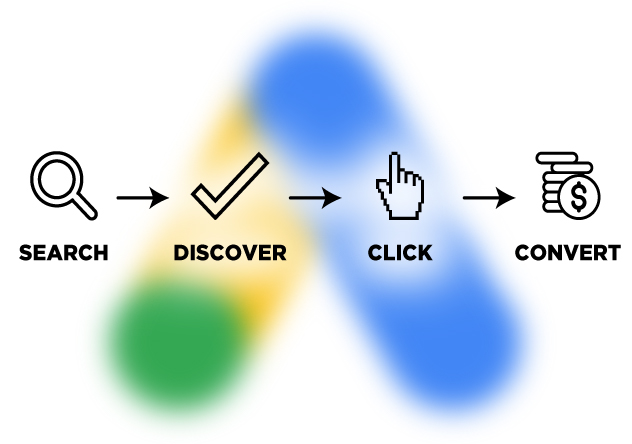 Every Business Can Increase Its Pace of Growth by Utilizing Google Ads
Small businesses and large businesses alike are quickly discovering the art of advertising online. At conversionMOXY, we use the word "art" purposefully. Strategies of online advertising reach beyond simple know-how. Since every company seems to wish to enter the game, they can't compete with pure knowledge. There must be skill, and an imaginative approach and openness to communicating expertise, combined with technique. Especially, this is true if you're considering using Google ads to allow the ears of your audience to hear your voice.
With that in mind, consider Google's definition of art:
"The expression or application of human creative skill and imagination, typically in a visual form such as painting or sculpture, producing works to be appreciated primarily for their beauty or emotional power."
We strive to give you emotional power. After all, it's often emotion that convinces your audience to choose your product over another. In this process, we aim to answer your questions so that you have a complete understanding of Google ads and how they work.
Are Google Adwords the Same as SEO?
We're glad you asked. No. Google Adwords are not the same as SEO. While both are techniques people use to draw traffic to websites, they are completely different concepts. Adwords are exactly as they sound, an ad with words. More specifically, it's an ad campaign using multiple strategies, including text ads, display ads, video ads and a few other methods of digital advertising that we'll explore in a moment.
First, let's briefly review SEO to fully separate it from Adwords. SEO is an oft-used catchphrase referring to search engine optimization. From the beginning of your site's creation, you need to be fully aware of it and use it. SEO is what kicks in after you use Adwords to initially bring people to your website. It's imperative to implement it from the start. Therefore, you maintain organic traffic coming to your site without paying for online advertising.
While the specifics of how SEO works is a bit complicated (check out our blog, SEO Tips, for more details), we'll break it down just a bit.
When internet users type a phrase or question into a search engine such as Google, the search engine must look for internet pages that relate to that request. It does this by using keywords. In fact, the actual search typed can involve multiple keywords otherwise known as long-tail keywords. These are more like phrases typed in for searches.
If you want your audience to find your website, you need an exact match in several places, embedded throughout your content. Embedding these keyword ideas improves your quality score. Search engines like quality scores. These calculations mean they're providing what they consider to be useful and relevant content. This is the factor that elevates your website to a higher position in search results. The goal is for your site to show up on the first page of results when a target prospect is searching for your type of business. We measure your conversion rate frequently to determine if you are getting a good return on your investment in each marketing campaign. When a visitor visits your site, you want them to have a rewarding landing page experience so that they will stay on the site and become a customer.
Fortunately, this is one of our most successful strategies at conversionMOXY. After all, you found us! One of the main reasons that you did is due to the fact that we understand the algorithms of search engines.
With that knowledge, our team helps you as well. We provide page content, blogs, links and all types of other methods to improve the odds of your audience finding you. Plus, we incorporate strategies to heighten your quality score and click-through rate as well.
How Does an Adwords Campaign Work?
All that information is fine and good. However, we realize that you didn't type Google Ads into your search to find out about your quality score and SEO. Although, aren't you a little bit pleased that you did? Regardless, let's get to the nitty-gritty of how an Adwords campaign works.
To do so, let's revisit search engines and how information appears once people type in their keywords. As previously mentioned, much of that content materializes based on what the search engine finds to be relevant. More often than not, results include thousands, and more likely millions, of websites.
Most people only view the results on the first few pages. Therefore, that's prime real estate for any business. To gain footing in that superior spot, you need fabulous SEO and longevity. By longevity, we mean a company website that has been published for a while. If you're lacking in either category, your fabulous website will live at the bottom of the pile. Thousands or millions of competing businesses will show up before yours.
In the end, you need to implement multiple directives to successfully increase your presence on the internet. To start the process, you must create an effective online ad campaign. More importantly, you must continue to monitor and adjust your AdWords campaign. That is where Google rewards you by charging less per click when your ads are performing well.
Properly-executed marketing campaigns also help you reach the top spot of search results. This is where text ads come into play. In Google Search Advertising, "text ads" are the search results that have a green AD icon next to the website URL in the listing result. They appear above the search results, so they're often the first results someone sees. Generally, they're an inexpensive way to get in front of your customers if your website is new and Google hasn't established strong SEO history yet. The takeaway here is Google Search advertising is powerful until all the work is done for organic SEO to take over. Then we really start to have fun!
Understanding Adwords
Likely, you've heard of Adwords as it is akin to one of your keywords for your online search today. There is a point where all of the information about Adwords seems to flow into an endless abyss. So, let's break down some definitions before we move further.
As we break down terms, note that Google changed the name to Google Ads. However, most of us still know their search advertising tool as Google AdWords. Simply put, Google Ads allows you to pay per click on custom-designed advertisements that show up when people search for specific keywords in their search terms.
Here are a few more words that you may run across:
Adsense – Google's keyword advertising system for websites
Adwords Account – Your account used to manage AdWords which is Google's keyword advertising system
Adsense Code –AdSense code refers to an HTML snippet
Fortunately, you won't truly need to deal with the intricacies of these phrases as we handle the details for you!
Types of Online Advertising
Similarly, the types of advertising you can do on the internet other than simple text ads gets confusing too. Let's quickly explore those definitions as well.
Bing Ads – Microsoft's version of Google Ads
Search Ads – Ads that appear in search engines
Text Ads – Text-based hyperlinks that appear in search engines as ads
Interest-based Ads – Advertising to visitor behavior rather than on specific websites
Pay-per-click Advertising – Ads that charge only when users click on them – lowering your cost
Retargeting Ad – Ads that remind your customers of you after they've left your site
Pop-up Ads – Window or ad that suddenly appears on screen based on pre-set parameters
Display Ads are another type of online advertising. Unlike text ads, display ads can incorporate images or video ads. These image-based advertisements are displayed on websites that are related to the behaviors of your target audience. This is an ideal digital advertising solution for brand awareness.
After gaining all of this information, many people wonder next: are Google Ads free? It would be wonderful if they were. While you can occasionally find a code to try out a few strategies for free, it does cost to use an Adwords account. However, the price is not set in stone and depends on the keywords or long-tail keywords that you are using. Pricing also depends on the success of your campaign overall.
Who is the Best at Creating Google Ads Online?
Now that you understand the definitions, it's imperative to find a business that understands all of this and far, far more. You also need to find a company that understands YOU.
Ultimately, not every small business or large business is created equally. They're as unique as their owners. Consequently, each company needs a strategy tailored specifically to their business. To their truth. To their values. To what makes them who they are.
Having an advertising agency that takes the time to get to know you and your truth is imperative. Without that step, a business will not fully understand your brand. Advertising for a brand that a marketing agency doesn't understand will never improve the brand. Our team at conversionMOXY strives to know you from the start. Moreover, we will take it a step further. We work to help you build your brand. In fact, we even aid in furthering to define it, if needed.
Once we understand your uniqueness, we explore your market niche and customer base. On a case-by-case basis, we utilize numerous strategies to do this.
Our Three-Step Approach
First, we focus on implementing an overall simple strategy with a three-step approach.
Strategy & Consult
There can be no success without strategy. Before we build or create ads for your website, we discuss your goals. Through communication, our experience, and industry research, we make a plan that works for you. Within this first directive, we use numerous techniques.
Design & Build
"If you build it, they will come."  In the Field of Dreams, that phrase makes for a great story. Only in the movies does that work. While our content can live in a cloud of dreams, our strategies cannot. We must find other ways to inspire. At conversionMOXY, we build what works based on the knowledge that we've amassed. We capture the attention of your target audience with the right design. After all, a good design tells a great story. Inspiring your customers to feel something special about your business brand, completes your story.
Our design and build strategies include:
Track & Report
Do you ever wonder what your visitors are thinking about? If not, you should.  We do. With real-time stats, we explore and show everything. From traffic to your website to what the people visiting your website, walking into your showroom, or calling your phone number are excited about, we calculate it.
To do this we, we use these core strategies:
Finally, we develop an ad campaign. Depending on what you need, this can reach across multiple advertising channels or we can focus your campaign on online advertising.
Let conversionMOXY Help with Your Ad Campaign
Finally, as you choose the best business to work with, it's helpful to hear what other customers are saying. Consider words of praise from one of our loyal clients, Synergy Integrated Systems.
"We have used John and his team's services for the past 9 years and we are very pleased with the results!"
To find out more details about an ad campaign or any service that we offer, give us a call today at 336-245-1640!