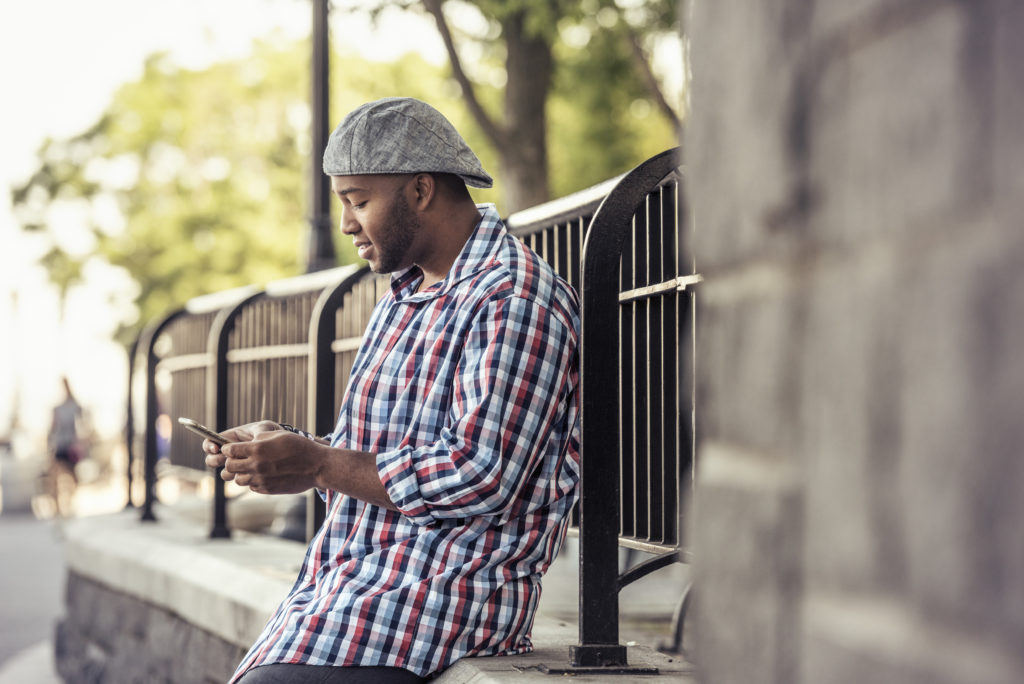 Geofencing Marketing Can Make A Powerful Impact
People love their phones. So much so that they don't go anywhere without them. Everywhere and anywhere you go, you see people looking at their phones. Over 81% of these are smartphones; mobile devices that let us connect to the internet and download apps. Savvy marketers can use our attachment to our phones to their advantage. Using geofencing marketing targeted to their audience, businesses can increase both customer loyalty, brand awareness, and qualified leads.
Whatever type of marketing strategy you engage in, the process is the same. You want to communicate a message to your target customer that results in an action. Geofencing allows brands to employ marketing tactics designed to impress and engage shoppers in new ways. By sending personalized messages, consumers feel understood and special. Moreover, 85% of shoppers say they're more likely to shop in stores that offer personalized coupons.
Geofencing technology is a marketing tool that reaches your client when intent is present. The context of geofencing is marketing to your target audience based on their location. Your customer is poised to make a purchase or use a service. By sending a timely and relevant message related to this purpose results in conversions. And because this technology is digital, you can collect valuable data to further help your marketing campaign.
How Does Geofencing Marketing Work?
Geofencing marketing involves setting up a virtual perimeter around a specific location. Locations can include your physical store, a competitor's property or a point of interest related to your business. Marketers set up perimeters through the use of GPS or radio frequency identification (RFID). When a mobile device enters the area, the owner of the device receives a notification.
Using this type of marketing tool requires thoughtful key considerations. Certainly, you should create a geofence around your store to attract nearby customers. However, you can set up both outdoor and indoor geofences. Thus, you can entice a potential customer into your store. Once inside, you can send your customer an offer as they walk through the aisles.
But don't just set up a geofence around your business. Events going on near your store are other great ideas. Convention centers holding trade shows, or continuing education events related to your business are other perfect geofence locations.
Keep in mind that the size of your geofenced area is critical. Too large and you won't achieve the results you seek. Most people won't drive 50 miles when offered a 10% off coupon. However, local geofences tend to be more relevant to consumers and lead to higher click-through rates. If a shopper is walking by your store, you may be able to entice them in with an offer. Some marketers recommend a 4-to-5-minute travel radius for your geofence. But, how far a person will travel depends upon your product or service and your offer.
The most effective marketing campaigns involve reaching your customers at the right time. Through geofencing, you can pinpoint a potential customer's location at the appropriate moment. When your customer is more receptive to receiving it, your message will be more effective. Mobile marketing is a great time-sensitive method of attracting new customers. Thus, you'll be spending money on prospects that are most likely to take action. Of course, this also leads to a higher return on investment.
Local SEO And Geofencing Go Hand in Hand
It's no surprise that with the rise of smartphone usage, that local SEO searches have increased as well. Google has seen an exorbitant growth in "near me" mobile searches that contain a variant of "can I buy?" Additionally, searches with a time reference such as "today" or "tonight" have exploded. Users are increasingly searching for a specific thing, in a specific area, at a specific time.
Optimizing your website for local search gives you the opportunity to rank in the "local pack" of Google's searches. When a user posts a query including the words "near me," Google will show three local businesses. If your website is optimized for local SEO, you may appear in these results. Simply by completing your business profile in Google My Business gives you the opportunity.
How does this relate to geofencing? Remember how we said the most effective marketing campaigns reach your potential customer at the right time? Consumers who use "near me" searches send a signal that they are ready to buy. Generally, when people are making these searches, they want the product or service immediately. Thus, targeting these users with offers through geofencing can result in increased conversion.
Geofencing Also Works on Social Media
Many geofencing tactics employ downloadable mobile phone apps. You build an app the user downloads to trigger the offer when the client enters your geofence. However, you can use a geofencing strategy on many social media platforms with paid advertising. Customers receive notifications through the social media platform on which they engage.
You probably already have a social media presence and may even engage in paid advertising. Incorporating geofencing strategies in social media advertising doesn't cost you anything additional. And because you're hyper-targeting shoppers, you have the potential of effectively bringing in more traffic.
Let's take a look at an advertising campaign on Facebook. When you set up a Facebook ad, you can target by country, state, and city. However, utilizing a geofencing strategy, you can limit the geographical location to a radius of 1 mile. This hyper-focus reaches more people who may be interested in your product or services.
Am I All Set to Start My Geofencing Campaign?
If only marketing was that simple! Setting location parameters for an ad is one thing, crafting a message that converts is another. And in order for your marketing campaign to be successful, you must know your target audience. Without a clear understanding of your target customer, you're just wasting your money.
As with any marketing strategy, you need to start with your ideal customer's profile. The more specific and precise you can be, the more your profile can help. When you understand your ideal customer, you can address their needs. You'll know which users will likely convert. Additionally, you'll know exactly the words to use to win a prospect over.
Having demographics like age and gender are important. But so are attitudes, interests, and habits. Psychological data like mindset and beliefs help determine how your customers make buying decisions. Knowing these types of characteristics give a clear indication of how and where to spend your advertising money.
Maybe you already have a customer profile. That's great, but when was the last time you reviewed it? It's a good idea to check it over at least once a year. An ideal client profile only helps if it's accurate. Reviewing and updating your target audience should be a routine part of your marketing plan.
With your ideal client profile in hand, you can begin to craft your message. Your ad must contain a realistic, attainable reward with as few steps as possible. Be very clear in your language and create a sense of urgency with limited time offers. Moreover, frequently change your offers so that customers look forward to seeing them.
Don't Forget to Use All That Data You've Collected
One of the great aspects of digital marketing is the data collected. Digital marketing allows for easier collection of consumer information. Search engines, apps, and social platforms all collect data from organic and paid traffic. You can then analyze the data for conversions and adjust your campaign accordingly.
Generally, foot traffic is hard to track. Geofencing allows you to collect valuable data on your users' behavior. You can track key metrics, such as when a customer visits your store and how often they return. Or how long they stay within the area. You can more accurately gauge customer experience with products in real-time. Analyzing these metrics can give you an overall sense of the consumer's habits.
Then, taking this data, you can create improved marketing campaigns. For example, it's easier to convert a returning visitor than a new customer. Thus, you can retarget a returning visitor with a new offer. Moreover, you can track the concentration of people within your geofence at a particular time. Again, this allows you to craft relevant messages to attract customers.
What Is Addressable Geofencing?
A new, innovative way to employ precise location marketing is through addressable geofencing. It's a more precise way of targeting consumers with greater efficiency and accuracy, using push notification. Additionally, you can target users across multiple devices. Addressable geofencing helps your business build brand awareness, engage with existing customers, and attract new clients.
First, you upload the physical addresses of potential customers into a database. Next, you create a geofence around each one. Then you send targeted ads through their mobile devices, desktops, and laptops. The ability to send your ads through many devices means there is a greater chance your ad will be seen.
Plus, you can target up to 1 million households. And you can create different ads targeted toward particular customers. Then with data collection, you can see which ads perform better based on demographics.
Will Location-Based Marketing Work for My Business?
Whatever size business you own, you can reap the benefits of using geofencing as part of your marketing strategy. For small businesses, it's a particularly helpful tool that allows you to compete against much bigger companies. Location-based marketing has a wide range of options that even a small business can afford.
By actively engaging with your customers through geofencing, you increase brand awareness and loyalty. It's one of the most efficient and cost-effective ways to market your products and services. Business has always been competitive. Geofencing is a creative way to grab your customer's attention and keep them engaged.
As with any marketing campaign, set definitive and clear goals. In order to measure the success of your campaign, you need an objective. Finally, set a budget as a guide to ensure you stay on track with expenses.
Need an Expert to Guide You Through the Process?
Are you ready to engage in a location-based marketing campaign? At conversionMOXY, we're ready to help you succeed at geofencing or any other marketing strategy. We're a locally-owned full-service marketing firm. Started by John Van Schaik in 2011, our team stands ready to help you with all your marketing needs.
We can advertise your business using both traditional and digital platforms. Website design, content marketing, social media advertising, SEO (Search Engine Optimization) and geofencing are all part of our portfolio. Combining all these tools into an effective, successful strategy is our business.
After reviewing your current marketing strategy, we'll discuss your goals and budget. We'll create a strategy for success and determine the tools necessary to implement the plan. Using analytic tools, we'll show you real-time statistics. You'll know which ads led users to your website, to call you, or to walk into your store. All the while we keep an eye on your return on investment.
So, give us a call at 336-245-1640. We'll set up an appointment to see how we can utilize geofencing to work for your business. The only thing worse than not have a marketing plan, is having one that isn't working.