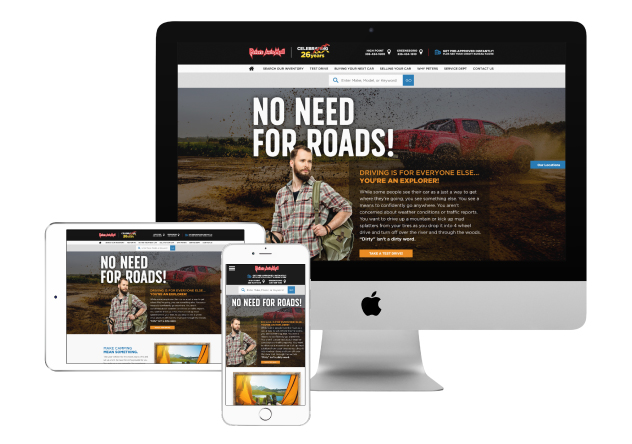 Local SEO Services Near Me To Grow Your Business
The year started normally enough. Then, the pandemic struck…changing everything. Welcome to the year of Covid-19. Once lockdown orders went into effect, consumers began ordering more goods online. As weeks turned into months, consumers made even more online purchases. Thus, it has never been more crucial to have a strong online presence. Your customers have now become online shoppers and seekers of information. They check online sources even before going to a brick-and-mortar location. To make sure you have a properly optimized website, you need experts to help you. When searching for local SEO services near me, choose conversionMOXY.
We're a full-service marketing agency specializing in traditional and digital marketing, including local SEO services. Geo-fencing, social media management, content generation, and website building are just a few of the many services we provide. With an eye on your budget and ROI, we have affordable, local SEO services.
Optimizing for Local SEO Has Never Been More Important
As the pandemic continually reshapes consumers' shopping habits, it's critical to keep your company front-of-mind with potential customers. Visibility not only keeps your business at the forefront of your customers' thoughts, but it can also attract new business. Paid advertisement is one way to attract the attention of consumers while SEO is another.
Search engine optimization (SEO) is a way of developing your website to show up among the top search results. SEO is sort of like signposts along the highway directing visitors to your store. When you correctly install these signposts, visitors can easily find you.
Local SEO focuses on your target audience in the vicinity of your business. These are the people in your neighborhood, community and surrounding area. Searches made by people in your physical area generally lead to higher conversion rates. Typically, consumers making local searches are ready, willing, and able to buy.
During this time of lockdowns and closings, consumers are searching for open businesses close to home. Moreover, shoppers are choosing to support local companies over big brands. By fine-tuning your local search engine optimization, you can help visitors within your geographical area find you.
What Exactly Is Local Search Engine Optimization
Many best practices for general SEO overlap local SEO. It's all about having your website show up near the top in search results. Localized SEO involves fine-tuning your site so that you show up in "near me" or local searches. A big part of digital marketing involves the direct targeting of the local market. Unless you are a national brand, you are trying to attract more local business and that is an important part of today's shopper's criteria. Many people are trying to keep their spending within their community and prefer to do business with local merchants.
Even before the pandemic, the growth of local searches had been exploding. The rise of smartphone use allows consumers to navigate their shopping experience on the go. Localized searches usually convert better, because users have the intent or the desire to buy. Thus, showing up in localized searches generally results in more sales.
Part of your overall SEO strategy should involve including your business listing on a local directory. Google trusts popular directories like Yelp, Angie's List, SuperPages and Manta. Thus, including your citation with a trusted directory also increases your chance of showing up in local search results.
Additionally, social media sites often act like directories. For example, once you create a business page on Facebook, your business can show up in its searches. Add your location and you can show up in the local search on this platform.
An SEO expert can help you optimize your listings to amplify your online presence and increase your local visibility. ConversionMOXY provides local SEO services near me to keep your business at the forefront of your customers' minds. We can perform an SEO audit to see how your site is performing; then, we can discuss the options to help grow your business.
How to Leverage Local Traffic
Your first step to optimize for local search is to complete a business listing for Google My Business. This is a free and easy-to-use tool to manage your online presence across Google. Completing your profile also allows you to show up in the Local Map Pack.
The Local Pack is a SERP (Search Engine Results Pages) feature highlighting 3 local businesses based on a query. These results change based on the location of the user. Moreover, the user can filter results by choosing options such as ratings, price, and hours.
Therefore, it's critical to optimize your Google My Business to appear in the Local 3 Pack. First, choose the correct category for your business. If you're unsure about the best category, google your product to view what your competitors have chosen. Complete as much of your business profile as possible including your physical address, phone number, and hours. Even if your business is entirely online, you can still fill out a profile choosing to hide your physical address.
Finally, complete a brief description of your business describing what you do. Try to incorporate primary and semantic keywords in your description without overstuffing. Inserting keywords in your description helps in ranking both in local and organic search.
Additionally, you may also want to include local keywords in your content on your website. The use of geographical keywords in your copy has a huge impact on local SEO. You can expand your reach by targeting both your city and your company's specific region.
Local SEO Is Only One Component of an Effective Web Presence
Almost anyone can have a web presence. Setting up a website, creating a blog, or posting on social media gives you an online presence. However, having an effective website, one that is successful in achieving your purpose, takes a lot more work. A website is not going to grow your business unless you attract the right visitors to your site and keep them there long enough to engage with you about your products or services.
Visibility is the key to an effective web presence. Your potential customer can't take action if he never sees your brand's message. A large part of marketing is getting your message across to the right audience. By following best practices, we can get your brand's message in front of your target customer.
Best Practices
First, you must have a clear vision of your goal. This vision must include your ideal client profile. Your ideal client is the person who uses the products or services that you provide to meet their wants or needs. Once you understand your ideal client's needs or wants, you'll know how to approach and appeal to them.
Next, you need to find the words your local audience is using to find your products. This is when thorough keyword research is critical. You need keywords that your local customer is using in search without being too competitive. Words that are too competitive are not efficient to achieve a high ranking for your business among search results. Although, most consumers aren't using words with low search volume.
However, you also need to know where to incorporate these keywords. To be effective, you must use keywords in the meta title, meta description, and throughout the content. Additionally, to show up in the local search result, you should include your location for an effective local keyword.
It takes a professional with access to superior analytic data to determine the most efficient way to use your digital marketing budget. We always focus on our clients' ROI, to ensure that you are getting the most return possible for your marketing dollars. Our goal is to provide affordable local SEO services, so that you will attract as much new business as possible in this competitive environment.
While keyword research seems straightforward enough, choose the wrong ones and you'll generate very little organic traffic. ConversionMOXY, a local SEO company, will help you find keywords with the right volume and competitiveness. Plus, with our knowledge of SEO, we can satisfy algorithm requirements to achieve a high ranking for your site. Google changes their algorithms on a regular basis. Therefore, it takes professionals with sophisticated software to ensure that your content is meeting current criteria to achieve that high ranking in search results.
Your Local SEO Campaign Should Also Focus on Your Visitors' Experience
The main focus of all search engines is user experience. Consumers want websites to load fast, have valuable content, and quick answers to their query. Search engines tailor their algorithms to meet the needs of users.
Today, more than half of all searches occur on a mobile device. A website that does not have a proportionate appearance on a smaller screen is harder to navigate. Thus, your website must have a responsive design. In fact, Google deems responsiveness so important that it now indexes websites through their mobile version. You can lose ranking status if Google does not approve of your mobile site.
Moreover, consumers are busy and don't want to wait for webpages to load. Google estimates that users will abandon a site if a page takes more than 3 seconds to load. Thus, having a website that is slow to load will also hurt your ranking.
Another important factor to consumers is security. Users want to know their information, like credit card data, is safe. Thus, having an SSL certificate is important. This technology encrypts data to keep all your visitor's information secure.
Finally, consumers want factual and authoritative answers to their questions. Your content must establish your company as a leader and be related to the query. Search engines evaluate your authority and relevancy through backlinks.
A backlink is a connection from another website to yours. When someone else links to your site, it gives a signal to search engines that your site is reputable. Additionally, when you link to another site, it helps the search engine understand your content better. It also builds trust with consumers when you reference authoritative sources. Link building should be an important step in any SEO campaign.
A Social Media Presence Helps with a Local SEO Strategy
Approximately one-third of the world's population uses a social media platform every day. Thus, posting content on social media increases the chances of your target audience seeing it. While search engines don't use social content as a ranking factor, social media can help with your ranking. A correlation does exist between how many likes, shares, or pins you get on a platform and your page ranking.
A social media presence can indeed help your overall local SEO campaign. Consistently posting on social media can give more visibility to your content and drives traffic to your site. Plus, you create links when you include your website URL in your profiles. Moreover, when you link from your website to your social media profiles, you help pass authority onto your accounts. Additionally, your social profiles can show up in search engine results.
Many consumers use social media platforms as search engines too. Although not all social media platforms share the same statistics, about 48% of Pinterest users shop directly from the site. Thus, having a presence on your ideal client's favorite social media platform can generate more traffic and sales.
Moreover, when you integrate geo-tagging into your social media posts, you boost your local SEO. Geo-tagging assigns a geographic location to your post. Search engines see this and make the connection between your business and the location of the geo-tag. This connection strengthens your local SEO giving you more opportunity to rank in local results.
Local SEO Services Near Me – We Can Help You Succeed
Keeping abreast of all the latest trends with consumers' spending habits can be time-consuming. Moreover, search engines are always tweaking their search algorithms. Without the proper knowledge and expertise, you'll be stumbling through the changes trying to keep your business visible. With restrictions from the pandemic likely to stretch on for several more months, you need local SEO services near me.
However, a successful marketing plan encompasses more than just local SEO. At conversionMOXY, we offer a full suite of marketing tools to grow your business. Started in 2011 by John Van Schaik, our company offers a complete marketing package:
Consulting and strategizing
Designing and building
Tracking and reporting
You will find many marketing companies that make promises about what they are doing to increase your business, but they offer no proof of their work or the results they are achieving. We provide monthly reports from independent sources to show this data to our clients. During a monthly review, we discuss results and plan strategy for the upcoming month. It is important to us to prove that we are increasing your ROI and working hard to grow your business.
Moreover, Expertise has awarded our efforts naming conversionMOXY as one of the best marketing agencies in Raleigh for 2020. Expertise reviews businesses across the country to help consumers find the best-qualified professionals. Grading on over 25 variables, they gave us high marks in availability, qualifications, reputation, experience, and professionalism.
Whether you've been in business for 20 years or are just starting out, we can help grow your company. Let's talk. Call us at 336-245-1640 to review your marketing plan. Every business is unique. Your marketing plan should also be unique.