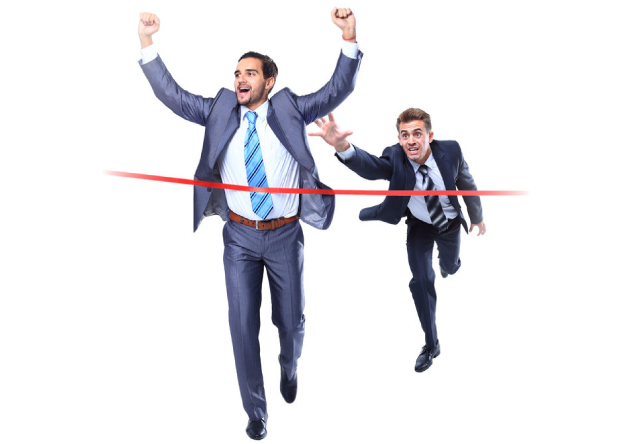 Attract More Customers With An Effective Web Presence
Today's world is digital. Thanks to new technologies, how we shop has changed dramatically in the past few years. In order to run a competitive business, you must be online. However, simply having a website isn't enough to break through today's marketing noise. To resonate with consumers, you must have a web presence. One of the best ways to build and maintain your online prominence is with conversionMoxy.
We're a full-service marketing agency supporting businesses in both traditional and digital forms of advertising. By encompassing a holistic approach, we can find solutions that work for you. Our portfolio of tools, backed by data, will achieve success for your company.
A Brief History of Advertising
Certain brands become iconic in our culture. When you see their logo, hear their jingle, or see their tagline, their product comes immediately to mind. Companies achieve this through effective marketing campaigns.
As long as man has sold or traded goods, some form of marketing has existed. With the evolution of technology, marketing has also changed. The widespread use of the Gutenberg press in 1450 allowed merchants to pass out printed flyers to prospective customers. Magazines became popular in the early 1700s giving businesses a new spot to promote their product. Billboards began to pop up in the mid-1800s.
The popularity of radio soared in the 1920s as it was a cheap form of entertainment. It also gave marketers a way to reach people in their homes. However, by the 1950s, television displaced radio as American's favorite form of home entertainment.
A series of inventions moved the computer out of the laboratory and into homes. The microprocessor shrank huge room-size computers over the years. They became smaller and smaller, until we ended up today with that capability on laptops and phones! When IBM introduced the home computer system in 1981, in only a few years, the internet arrived on the scene and marketing changed dramatically. However, the primary focus of advertising remains the same, to effectively communicate the message of your business.
In the early stages of the internet, all you needed to do was to put up a website. Today, however, with over 1 billion websites on the internet, you have to do more. Now, just having a website will not guarantee that anyone will find it. Through social media posts, blogging, and SEO (Search Engine Optimization), you must draw users to your site and impress them with your products or services.
Components of An Effective Web Presence
A potential customer becomes familiar with your brand's message when it pops up in different places. Consumers may find one of your blog posts when searching for a topic. Then, they see your social media post. Old-fashioned marketers say a consumer must see an advertisement 7 times before making a purchase. With the rise of social networks, you have the opportunity to engage with customers 7 times a day.
However, in today's digital world the opportunities can seem endless. At last count, there were over 75 social media platforms. It's impossible to engage on every single one. Yet, you need to be on some platforms to maintain an effective web presence.
Thus, it's crucial to know your ideal client. Your ideal client is the consumer who finds your products or services to be the perfect solution to their problems. While that definition may seem simple, many businesses struggle with creating a profile of their target audience. This involves establishing specific demographics such as age, sex, profession, and social life. You'll also know their problems to blog about and know which search terms they'll be using.
Every Good Marketing Plan Starts with Your Ideal Client
Without knowing your audience, you can waste a lot of time and money. An example of this is running a paid ad on Twitter when your customers engage mainly on Facebook. With a detailed ideal customer profile in hand, you'll know on which social media platform you should engage. More than that, a profile helps you understand and connect with your audience.
Once you have your profile, you can start keyword research. Keywords are the terms your customers use when describing their problem and looking for a solution. Using the right keywords will attract the right kind of buyers. This is where SEO comes into the picture. Using the keywords in specific places on your site and keeping your content up-to-date, fresh and informative is critical. Search engines are using algorithms to determine which websites will appear when people are searching for your products or services. Our experts know exactly how to satisfy those algorithms and achieve a high ranking for your site. After all, when do you go to a website that Google returns to you on page 3 of the search results? Your site must rank high to attract visitors, who then become potential customers.
Search volume and SEO difficulty are two metrics you should consider when choosing your keywords. If the term you want to use has a low search volume, most people are not using it. Thus, you won't generate much traffic. However, if the term has a high SEO difficulty it means the keyword is very competitive. Using this type of keyword lowers your chance of showing up in top results.
After researching and choosing your keyword, you must use it effectively to boost your online presence. Craft your company's message and your solution to your client's problems around your keyword. Of course, then you must include your keyword in specific locations within the content on your website. Positioning your keyword in these places tells search engines what your site is all about.
Google Wants You to Provide A Great User Experience
All search engines want to return relevant results with a positive website experience. Very few people would use a service that directs them to sites unrelated to their queries. Thus, the keywords you use should be related to your business. Search engines view the use of unrelated terms as spammy and result in a lower ranking.
With the rise of tablet and smartphone use, your site must be mobile-responsive. This means your site should shrink to fit the size screen of the mobile device of the user. Sites that aren't responsive are difficult to read and navigate. Moreover, Google predominantly uses the mobile version of the content for indexing and ranking.
Security is extremely important to consumers. With the rise of hackers and identity theft, shoppers want to know any information they supply is secure. Thus, having an SSL certificate for your site is a must. SSL technology encrypts all communication between websites and authenticates the website.
Your site should also load quickly. People are busy and don't want to wait more than a few seconds for pages to load. Moreover, pages with longer load times have higher bounce rates and lower conversion rates.
Finally, the navigation on your site and how users find what they're looking for helps with relevance and user experience. First, if consumers can't find what they need, they'll leave your site. Secondly, the terms on your navigation menu are another opportunity to tell Google what your site is about. Every component on your website must increase your company's web presence, attract your target customers and keep them on your site until they interact and make a purchase.
Trust and Authority Are What It's All About
When consumers look for contractors, they rely on referrals to determine the quality of the business. Search engines also rely on referrals to signal quality companies. These signals are backlinks, connections to your website from other sites. A backlink tells Google that you're a knowledgeable source of content. Google rewards a company with quality backlinks by ranking it higher than one without.
Two other types of links are also important in ranking, outbound and internal links. Outbound links are connections from your website to another. Generally, you would use these links in a blog post to add insight into a particular topic. When you link relevant content, it helps Google to understand your topic better. It also builds trust when you reference sources.
Internal links are connections between pages of your website. These links indicate to search engines which content you deem more important or valuable. Additionally, by creating internal links, you help Google find your content easily. Moreover, you show the relationship between content thus boosting authority.
Link building is an important part of any SEO strategy. However, just as with any other process, the focus must be on quality. A poorly-designed linking approach can lead to spammy connections and ultimately hurt your ranking.
Why It Matters If You Appear on The First Page of Google Search Results
Google has become the dominant search engine and an integral part of our culture. In fact, when most of us want to know something, we don't just search for the answer; we "Google" it.
Since most consumers use Google for search, marketers generally conform to Google's best practices for showing up in results. These best practices help to achieve high ranking when users are looking for information. Landing on the first page near the top of search results is the ultimate goal.
Generally, most people don't look past the first page when searching. Studies have shown that appearing on the first page of Google results in a significantly higher click-through rate. Moreover, the top 3 or 4 results generally get the majority of CTRs. Thus, appearing on the first page yields significant results.
The click-through rate or CTR is a measurement of impressions that resulted in a click to your website. When a user inputs terms in the search box, the search engine returns a list of results. Appearing in the search result gives you an impression. With a greater number of impressions, you have more exposure. If the message of your company is enticing, the user will click on the result taking him to your website. Then you have a chance to convert your visitor into a customer.
How Do I Get on The First Page of Google?
There are 2 types of traffic on the internet, paid and organic. Paid traffic arrives at your site from advertisements. These can take the form of banner ads, pay per clicks, (PPCs), or social media ads. Organic traffic is the result of optimizing your site for search engines (SEO). While paid ads result in quicker results, search engine optimization produces longer-lasting results.
At the heart of Google's ranking is user experience. Whether you engage in a paid marketing campaign or rely on SEO, you need to adhere to best practices. These guidelines help to give the user relevant, authoritative, and trusted information. Search intent, backlinks, SEO, and other factors all affect how the consumer interacts with your site. Give the consumer and Google what they want, and you'll rank high in search engine results.
An often-overlooked strategy is Google's local map pack. With the rise of "near me" searches, consumers want to find businesses nearby, typically within 20 miles of their location. Completing your business profile on Google My Business gives you the opportunity to appear on page 1 of localized searches. If gaining more local business is important to you, this is a critical component of your marketing strategy.
Choose A Marketing Firm That Understands You
The world of digital advertising is constantly changing. You've got to keep up with new developments or your business will be invisible. As a business owner, you have enough to do without having to worry about changing algorithms – and trust us, they are ever-changing! When searching for an agency to handle your web presence, choose conversionMOXY.
John Van Schaik started the firm in 2011 to provide companies with a portfolio of marketing services under one roof. We provide custom web design, SEO, digital advertising, social media, geo-fencing, and content generation to build brand awareness and conversions. Using analytic technology, our team will grow your business with a measurable R.O.I. Moreover, we're a Google Partner, a designation awarded to companies with Google Ads skills and expertise. And recently, Expertise named us one of the top advertising agencies in Raleigh.
Give us a call at 336-245-1640 to discuss a complete marketing solution for your business. We deliver high-quality leads and sales for all types of companies. With a complete suite of digital marketing tools, let us take control of your web presence management.