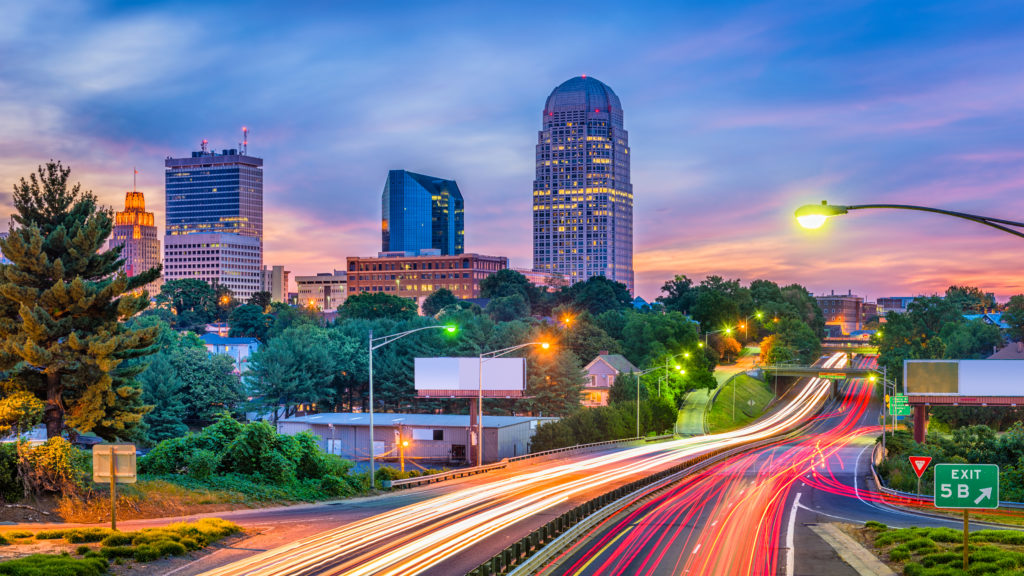 One Of The Best Winston Salem SEO Companies To Help You Rank
In any type of business, there is jargon or technical language that industry experts use. Search engine optimization (SEO) is one such term used frequently when discussing websites. While there may be some different approaches to SEO, the best practices bring consumers to your website. There are millions of active websites and probably hundreds selling the same product or service as your business. Structuring your site to appear on first page results undoubtedly brings huge amounts of traffic. Thus, hiring one of the best Winston Salem SEO companies should be high on your priority list.
What Exactly Is SEO And Why Is It So Important?
The internet is a vast database of knowledge and it grows bigger every day. In order to be able to access all this data, search engine companies create an index. Using programs called crawlers, search engines seek out content. As crawlers find new content, it's organized into the search engine's index.
When you post a query, the search engine searches its index and returns web pages it thinks are relevant. These SERP (Search Engine Results Pages) are both paid advertisements and organic traffic. Ranking high in SERP is the goal of every business.
But just how does your website achieve that coveted first page position? Through something called SEO or search engine optimization. You use procedures and practices that search engines reward, thus placing you above other websites.
The First Step in Your SEO Strategy, Identify Your Ideal Client
I know, many of you hate this task! This process drives many small business owners crazy. Writing out the characteristics of your target audience can be tedious. Age group, income, how they get their information, and what makes them happy can be hard to quantify.
Yet before you can begin to even strategize your SEO campaign, you have to start at this important place. No matter what type of business you're in, selling products or services, you must know your ideal client. To engage in any type of marketing without a client profile is simply throwing away your money.
Consider these scenarios: you spend hundreds of dollars on Facebook advertisements, but your customers primarily use Instagram. Or, you generate pages of content using a keyword phrase that isn't in your clients' vocabulary. Alternatively, your copy fails to connect or create any type of emotional response in your audience.
Do you see how important identifying your ideal client is? Knowing exactly where your audience is allows you to target your message directly to them. And using language that resonates with them will pay dividends.
Next Do Keyword Research
When your audience is looking for your product, there are certain words they use in the search box. These specific words are keywords. They are different for every product and industry. Knowing the words your customers are using can help your site appear in SERP.
But which words are your customers using? This is the basis of keyword research, finding combinations of words that appeal to your client base. Sounds easy right? Not so fast! Some keyword phrases may perfectly describe your product, but other companies may already heavily use them. It doesn't make sense to use exhausted and overworked phrases, since you'll have too much competition. Thus, you must analyze your keyword choice for search volume, difficulty, and density.
If you have an existing website, you may already be ranking for certain keywords. The idea is to build on these by finding new words to rank for. By adding new keywords, your reach will broaden, attracting more organic traffic.
Alternatively, if your website is brand new, start with a broad, single word term that describes your product. This is just your starting point as this term will be too competitive to achieve a high ranking. Add other terms describing your product to narrow your keyword specific to what you are selling. Then see how these 'long-tailed' keywords compare in search results.
For example, let's say my business sells ladies' shoes. This is too broad a term and highly competitive. If I try to use these words as my keywords, audiences will never find my website. However, if I sell casual ladies' shoes, I might use keywords such as "comfortable ladies' loafers" or "casual ballerina flats".
Now That I Have A List of Keywords, What Do I Do with Them?
After you've compiled a list of keywords, there are certain places they need to appear. The next step is to naturally incorporate these words into page titles, meta descriptions, content, and images. This is how you optimize your site for search engine results. When you use your keywords properly, the search engine finds your web pages and indexes them into its database. Correctly using these words is what SEO is all about.
However, using keywords too many times can get you penalized, banishing you to the black hole of the internet. Plus, search engines frequently change their method for ranking on the first page. You've got to keep up with the changes, or your website won't show up in SERP.
Keeping Up with Changing Algorithms
We've explained what search engines are and how they work. But we haven't explained how search engines pick which content heads the top of their index. Search engines use a complicated formula known as an algorithm. An algorithm takes many factors such as keywords and backlinks, then assigns a value to each one. The website with the highest value receives the coveted first spot in search engine results.
Algorithms change frequently to keep up with the changing digital market and to enhance user experience. Moreover, each search engine has its own algorithm that is a closely guarded company secret. However, many marketers focus on Google's algorithm because of its tremendous market share. According to Statista, Google dominates the search engine field with approximately 87% of searches going through them. Thus, when programmers are optimizing a website for search, they generally conform to what Google deems important.
So, What Does the Google Algorithm Want?
Google's mission is to deliver the most relevant and reliable information available. At the heart of every search is the user's experience. Thus, Google formulates its algorithm to maximize its effectiveness in returning accurate results in seconds. While the exact formula for rating webpages is secret, Google does let us know what's important.
Primarily, you must include those keywords you've discovered in the meta title, meta descriptions, headers, and copy. This gives an indication to Google what your website is about. As Google crawls through your website, it recognizes these keywords and indexes your website accordingly.
One place that inexperienced website builders often neglect is including text with images. Most websites rely heavily on visuals because humans like to see pictures. However, Google's crawlers see images as a non-descript "picture." By adding Alt Text, you give search engines a clearer picture of what your website is about.
Other factors such as site speed, responsive design, and SSL certificate affect user experience. In today's age, no one wants to wait for a site to load. If your site lags, your visitor will be off to another competing website. Moreover, with the explosion of smartphones, more consumers are making purchases from their phones. If your website doesn't have a mobile-responsive design allowing it to conform to the screen size of all mobile devices, you'll lose customers too.
Finally, security is vital to consumers in our digital age that includes cybercrime and identity theft. Consumers want to know that any information submitted through your website is safe. An SSL certificate assures users that any data collected via the website in encrypted.
If My Website Is Fully Optimized, Should I Worry About Off-Page SEO?
Definitely. Overall, off-page SEO tells search engines what people think about your website. Backlinks, one aspect of off-page SEO, is extremely important in ranking in SERP. In fact, backlinks were the foundation of Google's first algorithm.
Inbound links or backlinks give a vote of confidence in your website. Someone else found your information to be valuable and relevant enough to create a link. It's sort of like a referral for your business. Plus, links establish you as an authority. Therefore, the more quality backlinks you have, the higher your site will rank. But be careful! 'Spammy' links will actually get your website penalized.
It's crucial to audit your site's backlink profile routinely for harmful links. By spotting issues caused by toxic links early, you can prevent a penalty from happening. An SEO expert can help you by identifying spammy links and removing those links to your site.
Social Media Marketing Is Also Off-Page SEO
Social media sites are platforms that allow people to share content easily and quickly. Every day, new people are joining a platform as a way to keep in touch with others. Industry experts think most people spend an average time of over 2 hours on social media. Having a strong social presence is an opportunity to build your brand awareness and reputation.
While social media doesn't help with your search visibility directly, a strong presence builds authority. It also creates fans, spreads your content, and drives people back to your site. Moreover, as users share your content, you also gain more backlinks.
There are two very important aspects of social media marketers need to focus on. First, knowing which social media platform your audience engages with. And second, knowing what type of content to share.
As with many trends, social media platforms come and go. Current popular platforms are Facebook, Instagram, and Twitter. Furthermore, there are over 50 social platforms and it's impossible to maintain a presence on each one. Experienced digital marketing companies study trends and ideal client profiles to know which platforms to engage on for each client.
When many people think of content, blogging comes to mind. However, content is also infographics, memes, and videos. In fact, these types of content are probably the most popular right now. However, not all content works great on every social media platform. Each platform requires a different marketing strategy. It's crucial to have a digital marketing company that creates content that is relevant and engaging, but also specific to the platform.
Take Control of Your Local Winston Salem SEO
In today's digital world, having a strong online presence is essential. Simply setting up a website is not enough, as you will never show up in search engine results. Solid SEO techniques will result in website traffic. Unquestionably, hiring a local Winston Salem SEO company can take your business to the next level.
ConversionMOXY is a full-service marketing agency that understands the complexities of constantly changing SEO strategies. Started in 2011 by John Van Schaik, we're a family-owned business focused on delivering marketing solutions for growing companies. We have an established record for sales growth and conversions.
In a rapidly changing digital world, we use cutting edge technology to deliver measurable results. We constantly explore and develop new technologies that improve the return on investment of our clients' marketing budgets. The internet is fluid and always changing, and so are we.
Each day you wait to optimize your site for SEO is like throwing money out the window. Let's start a conversation today on how to improve your business. Call us at right now at 336-245-1640.