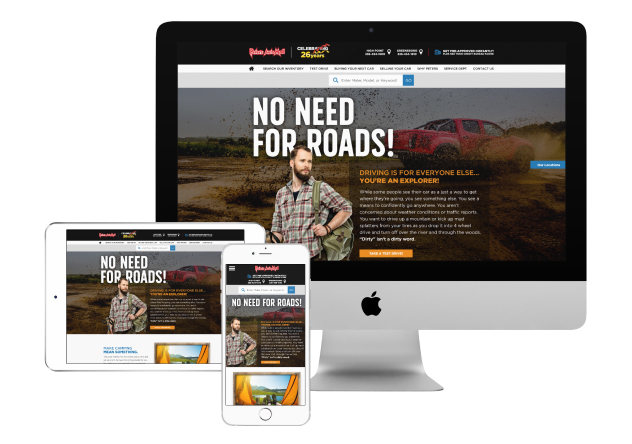 A Marketing Firm that Does Web Design Winston Salem that Businesses Trust
All businesses can benefit enormously from a well-crafted website. With an online presence, you can sell goods directly from an e-commerce website.  Perhaps you want to drive new customers to your brick and mortar store. Whatever your goal, a website can help achieve your objective. It's estimated that there are 3.5 billion people who use the internet. That's a huge market that you can tap into. However, setting up a website is harder than it looks. There are millions of websites out there. How will yours stand out among the competition? Just having a website isn't enough. You need to attract potential customers and convert them to buyers. When you're ready to build your site, use the web pros at conversionMOXY.
ConversionMOXY is a locally-owned, full-service marketing agency. We offer a complete solution for promoting your business in both traditional as well as digital marketing. This includes web design, social media presence, and online branding. Combining eye-catching graphic design, persuasive copy, and great SEO, we'll vault your business to the top with a new website.
Additionally, we can manage your social media presence. Knowing exactly on which platform your target audience spends their time is crucial. Generally, genders and age groups prefer and use a particular platform over others. We'll advertise on the platform your targeted audience uses so you're not wasting money. Plus, we know how to craft your message, so your potential clients hear it and act upon it. Call us today at 336-245-1640 to discuss all your marketing needs.
Can't I Build My Own Website?
Many people do indeed build their own websites. There are drag and drop sites available on WordPress using templates. However, drag and drop websites limit your customization. When you build your website, you don't want it to look like every other website on the internet. You want a custom website that reflects your brand's unique style. This is when using an experienced graphic designer is crucial. Your branding should be reflected in everything that you do, so that your message is consistent throughout all media.
Additionally, once you launch your shiny new website, will people be able to find it? Or, will you rank on page 10 in Google results? Building a quality website is only part of the equation. Placing predominantly in search results is crucial to your business's success. This involves good SEO conforming to Google's algorithm.
Moreover, in today's digital world, your website needs to have a responsive web design. This means that whatever device the viewer is using, the website automatically adjusts.  We know that smartphones or tablet screens are much smaller than desktop computer screens. Often, the screen orientation is different. Your website needs to display correctly on all devices for optimal user experience.
These are serious considerations as you try to reach new markets and customers. At conversionMOXY, we're experienced website builders. We know how to use SEO best practices to put your website ahead of the competition. Likewise, our eye-catching graphic design will grab visitors' attention. Moreover, we'll build a user-friendly website guiding leads down the sales funnel resulting in new customers.
What is Search Engine Optimization (SEO)?
Search engines, like Google or Yahoo, use programs called crawlers that gather information about websites on the internet. Using this information to build an index, the search engine categorizes the information through an algorithm. Then when you search for something, the search engine tries to match the indexed data to your question. SEO or Search Engine Optimization is a way to use specific words and other information to help the browser find and rank your website. These words, called keywords, are unique to each industry.
Knowledgeable web designers know which keywords to use, how often to use them, and where to place them. Using keywords too often or too little results in a low search engine ranking. Experienced web designers know how to incorporate keywords in titles, meta descriptions, and in the copy.  Images, too, can help you rank higher when you incorporate keywords in your Alt Text with your pictures. If these terms and concepts sound like a foreign language to you, you need a marketing firm experienced in SEO.
Additionally, search engines are always modifying their algorithms to provide a better experience for internet users. Criteria that may have mattered in the past may not be relevant today. Therefore, you need to stay current on the best practices for keyword use. That's why it's important to hire a full marketing firm and not just a web designer. If you don't follow the current algorithm requirements, you could lose your ranking or be removed by the search engines. You want a company that stays current to make updates to your website as necessary. That company is conversionMOXY.
The Importance of a Great Home Page
Typically, as with most websites, the first page your visitors will arrive at is your home page. Therefore, the home page is one of the most crucial pages on your website. It's here that potential customers will gain a first impression of your business. You have about 10 seconds to capture the attention of a potential client. Otherwise, they are off to a competitor's site.
There are many integrated elements needed to make your home page attractive. An experienced web designer will combine graphic design with good copy for a professional looking site. Incorporating calls to action (CTAs) encourage visitors to take some type of action, leading them down the sales funnel. A great looking website will inspire visitors to spend time on your site to learn more about your business.
Some Elements that Make a Great Home Page
First, the colors you choose have meaning. Thinking about the type of clients you want to attract can help you choose the best colors for your website.  Different colors will invoke particular emotions. Additionally, color can also draw attention to certain areas of your webpage. Using accent colors correctly can highlight important text you want visitors to see.
Next, the choice of font and the size can make your text easier to read. Additionally, leaving enough "white space" between the paragraphs lends an uncluttered look that is pleasing to the eye. The language used to explain your business should be emotional, drawing on your client's reaction. Finally, you'll want to include some type of call to action (CTA) for your visitor to take. You might offer an E-book, free webinar, or coupon.
Your visitor will most likely not become a client on the first visit to your website. But you want to draw them back for a second look or capture their information to follow up with them. This is how you guide visitors down the sales funnel.
At conversionMOXY, our stunning graphics will stand out among your competitors. Our command of SEO practices will generate huge amounts of traffic. Moreover, we're experienced at optimizing pages that convert leads into customers.
What a Great Landing Page Does
Often, when someone first lands on your website, they won't be ready to buy from you or use your services. If your home page captures their attention, often they're sent to another page on your website, a landing page. Landing pages must be set up with one specific goal in mind. Goals are unique and specific to your company. Many times, websites have several landing pages. These guide the visitor along a well-designed path.
Using persuasive language and an offer, the landing page should encourage the visitor to take some action. The offer must be compelling for the visitor to freely give up his contact information over the internet. Your type of business depends on what you may offer for the contact information. Finally, the form must be set up correctly so that your business receives the lead information.
How Do I Know How Well My Site is Performing?
Typically, a web designer just sets up your website. Whereas a marketing firm can set up your website and track and analyze data. Data such as how much traffic your site receives or how long visitors stay on your site is critical. These statistics are used in determining how effectively your website is performing. And if you find some pages are underperforming, a marketing firm can fine-tune and test strategies. After all, your website should be fluid, changing with the needs of your customers.
Probably all of us are familiar with Google. It's the search engine most people use to find answers to their questions. According to Business Insider, combining all Google's products, 90% of all internet searches take place through them. Thus, optimizing your site to Google's algorithm is essential for placement. Google makes it easy for you by giving you a free tool, Google Analytics, to see how your site is performing.
Using Google Analytics and other cutting-edge software programs, we can better evaluate your business website performance. We can find visitor demographics to improve campaigns to target your specific audience. After setting up goals, we can see how your audience travels through your funnels and when they exit your site. Thus, we can measure your return on your investment and how much money you're losing on lost leads. Accordingly, we can modify your pages for better conversion.
At conversionMOXY, we're data driven. We're skilled at analyzing statistics to driving leads and sales to our customers.  Simultaneously, we deliver a measurable return on your investment meeting your marketing budget. We meet with our clients by phone, web meeting or in person once a month to evaluate performance and devise future strategy. If you'd like to grow your online presence, call us at 336-245-1640 for a free quote.
How to Find the Right Company for Your Business
Investing in your business is an instrument for growth. As the world becomes increasingly digital, having an online presence is necessary. Furthermore, a good, quality website is a cornerstone of digital marketing. There are several steps to finding a web design company that can turn your vision into an online reality.
First, look at their company website. Does it look professional and is it easy to navigate? Look for client testimonials and what they say about the company. Next, look at some of the websites they've built for other companies. While companies will have different missions and goals, the websites should have a great design with a good user experience.
Be sure to speak, and if possible, meet with your key contact from the company. You should be comfortable with this person as you will be in regular contact. If you have a budget, be sure to specify how much you're willing to spend. There are differences in price structure due to the simplicity or complexity of the website design.
Use the Web Design Winston Salem Company That Businesses Trust
Running your own business is hard work. Taking the next step with your business with a website shouldn't be a painful process. When looking for a web design Winston Salem marketing company that businesses trust, choose conversionMOXY. We're more than just a website design company, we're a full-service marketing firm.
We build beautiful, responsive websites optimized to generate leads and convert sales. Our sites are user-friendly and easy to navigate, providing a great user experience. Moreover, when we build your site, it'll be custom tailored to your brand and your needs. Additionally, we offer many digital marketing services such as blogging, social media posts, and inbound marketing.  This ensures your website is delivering the results you want.
Give us a call today at 336-245-1640 for a free quote and to discuss the details of your new website. We'll set up an appointment to discuss and evaluate your unique business situation. Online marketing is only getting more crowded, we'll help you stand out.