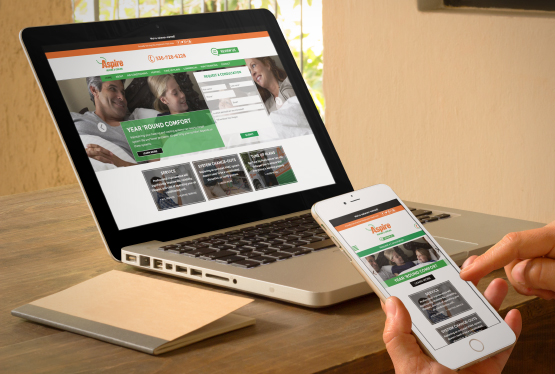 A Responsive Web Design Company Producing Remarkable Results
As consumers, we have never had a better time to shop. We have the world at our fingertips, literally. With the rise of smartphone usage, we can research and buy anything and everything from the palm of our hand. While this is great for consumers, it can be problematic for web designers. Simply shrinking a site down to fit a screen doesn't work. Building a site that looks great on any screen size is the goal of responsiveness. When searching for a responsive web design company, choose conversionMOXY.
Although we're accomplished website builders, we're more than just a website design company. We're a full-service marketing firm experienced in both traditional and digital marketing. Equipped to provide all forms of marketing, we can help your business succeed. Beginning with your goal, we'll assess your current strategy and build a solid plan with a timeframe for results.
What Does It Mean to Have A Responsive Web Design?
Today, consumers use different devices to access the internet. Desktop and smartphones are the most popular devices, but the average mobile user also searches on tablets, smartwatches, and even game consoles. It may be obvious to state, but screen sizes among these devices vary greatly. A responsive website design will communicate your brand identity and message no matter what the screen viewing size.
Undoubtedly, from a desktop to a mobile device, the size of your website must shrink. However, merely shrinking your site down a few sizes can result in text that is too small to read. Elements that lined up perfectly on the desktop version may appear off-centered on your smartphone. Moreover, your images may appear fuzzy, out of focus, or even cropped.
Thus, simply shrinking your website is not the complete answer. Elements do indeed need to be smaller. Yet, the content must remain easily readable and the site navigable. You need a flexible layout that adapts to different viewing conditions.
Loading time may also vary between devices. Thus, although your site may load quickly on a desktop, it may lag on another device. We know from the data, that consumers will not spend more than a second or two waiting for a site to load on their device. If it doesn't load instantly, they move on to your competitor's site. This is obvious when you study your "bounce rate," which tells you the rate of visitors who leave your site quickly for some reason. Often, using images that are too large can slow load times on a mobile phone. A knowledgeable web design service like conversionMOXY knows how to scale your images for an efficient, mobile responsive website. There are many factors that must go into site design in order to achieve the best results.
All This Is Interesting, But How Does It Affect My Website Traffic?
Back in 2018, Google announced it would begin indexing the mobile version of websites. Thus, Google will rank mobile responsive websites higher than those that aren't responsive. Since Google is the dominant search engine on the internet, many marketers realize the value of mobile-responsive websites. Let's take a look at one of our client's websites. Landscape Solutions & Design, Inc has a responsive website design. On a desktop version, the home page has 2 side by side pictures representing their commercial and residential business. We centered the business statement across the page. Viewing the website from a smartphone, the home page now has the pictures one on top of the other. Not only has the text been re-sized, but it's re-centered at the top of the page for easy reading.
Moreover, when you navigate to one of the landing pages on their mobile website, you'll see that we re-centered all of the images. Again, the content automatically re-sizes and re-centers. Additionally, at the top of the page, the icon of the phone is clickable and will automatically dial their number. This makes it very easy for you to contact them from your mobile device.
What if you aren't sure if your site has a responsive design? Google will test how easily a visitor can use your website pages on a mobile device. Congratulations if your site is mobile-friendly! If not, call conversionMOXY today at 336-245-1640 to get your site optimized for mobile use. Every day, there's a greater number of consumers using their smartphones for purchases. Ignoring the problem will result in lower ranking and lost customers.
What Else Do I Need to Make My Website Search-Engine-Friendly?
The internet consists of billions of pieces of information. Search engines exist to help consumers find what they need quickly. Internet users don't want spammy sites, inaccurate, or useless information. Thus, in order to be search-engine-friendly, your website must be relevant, trustworthy, and authoritative.
Making your site search-engine-friendly is the basis of SEO (or Search Engine Optimization). This involves the use of the best practices to rank your website in results. We've already discussed having a mobile-responsive website design, fast loading times, and readability. Let's dive deeper into the use of SEO.
Relevancy
When a user posts a query in a search box, he expects results that match his question. This is the heart of relevancy, that the results apply to the question. The user would soon abandon the search engine if the results gave him unrelated websites. Web designers let the search engine know the subject of the content by using keywords.
Keywords are topics or ideas that define your content. Your web design company will research and find the words your target audience uses to find your product. Then, the web designer places these words in specific places. These places, meta title, meta description, and text, signal to the search engine the subject of your content.
As search engines crawl the internet searching for information, your keywords will tell it what your content is about. The search engine will then index it or categorize it for future searches. Using the right keywords allows you to appear in relevant results. Thus, you'll drive more traffic to your website.
Fresh and Informative
Google uses constantly-changing algorithms to rank websites in search results provided to those looking for answers. We all know that when we search for something, we are more likely to click on a result on the first page; therefore, every business wants to show up on the first page of search results.
When the search engines crawl through relevant websites, the algorithms also check for content that is current, updated recently and informative about the subject. All of these attributes help get your company ranked higher than your competitors.
Trustworthy
In our digital age of stolen identities and financial information, internet users want assurances that their information is safe. You can assure visitors any information they input on your website is safe with an SSL certificate. This is technology that encrypts the information you send through the site, so that hackers and thieves cannot access it. Websites with an SSL certificate begin with https and have a padlock in the search bar next to the URL.
Testimonials and reviews are another way to build trust. Visitors get an idea of your business operation and how you treat your customers with these endorsements. ConversionMOXY has gathered many great reviews from our clients. Here's a sample of just a few of our testimonials:
We have used John and his team's services for the past 9 years and we are very pleased with the results. We find it so much better to work with a local, smaller company that truly cares about your business and results. – Synergy Integrated Systems
ConversionMOXY has been handling our SEO and web presence for 4+ years as well as misc. marketing tasks. We are very pleased with the team and the results. – AD Systems
John and his Moxy Team are truly First Class!! They have completed multiple projects for us and we have been highly satisfied with their services!! – Steel Mountain Fire & Safety
Authoritative
When searching for information on the internet, you want the most reliable, credible, and current source you can find. Frequently and routinely publishing quality content shows you're knowledgeable in your field. You can accomplish this through blogging.
Another way to build authority is with backlinks. These are connections from other websites to yours. When another site links to yours, it gives a signal to Google that your information is valuable. The more quality backlinks you have, the more authority Google deems you have. Thus, you'll achieve a higher ranking.
However, not all backlinks help your site. Connections from spammy sites can actually hurt your ranking. Routinely auditing your backlinks and eliminating questionable ones will help preserve your ranking. If it's been some time since your last audit or you never even performed one, it's time. Call conversionMOXY at 336-345-1640 right now to set up an appointment to review your backlinks. It may be the reason you haven't seen the results you want.
Geofencing Is Invaluable for Business Growth
Even though your website has a responsive design with quality SEO, you may want to engage in some advertising. While SEO is effective, results can take time. Investing in advertising can give your business a quick boost. Geofencing is one of the most effective paid forms of advertising providing both an immediate return and brand awareness.
The rise of mobile phone usage with GPS and internet technology has enabled geofencing marketing to grow quickly. Today, over 47% of internet searches are through a mobile device such as a smartphone. Smartphone usage has also helped "near me" searches rise rapidly. These "near me" searches represent a clear intent on the part of the consumer that they are ready to buy.
Now, take this consumer who is near your business and needs your product or service. You send him an advertisement or coupon through geofencing technology. It's specifically targeting an audience who's receptive to your message. This includes someone who is either near your location or at a place where you would expect to find your target demographic. Marketing doesn't get any easier than that.
Geofencing isn't only good at attracting new customers. It can help you retain loyal customers as well. Instituting a reward program that triggers special deals is also possible. Moreover, retaining clients is always cheaper than wooing new ones. In one particular study, the researchers found increasing customer retention rates by just 5% increased profits by 25-95%.
Several variations of geofencing exist. You can send push notifications, text messages, or targeted ads on social media. To establish your geofence, you use software like GPS or Wi-fi to set up an invisible perimeter around the targeted location. Once the potential customer enters the area, they'll receive your notification.
We're Much More Than A Responsive Web Design Company
Your company may be the best in the business. However, if no one knows about your company, you won't have very many sales. A successful marketing campaign can build brand loyalty, spark new interest, and drive sales. In today's digital age, a large portion of your success depends upon your online presence. Yet, merely having a website doesn't guarantee success. With the rise of smartphones, consumers are conducting mobile searches more frequently. Thus, to remain competitive, you must have a responsive site.
Finding the right website design company to help you achieve your goals is a must. ConversionMOXY is a local, responsive web design company that is also a full-service marketing firm. In 2011, John Van Schaik started conversionMOXY to provide integrated marketing services all under one roof. Branding, SEO, digital advertising, and inbound marketing tactics are just some of the services in our marketing portfolio. Our team is ready to assist you with whatever type of marketing your company needs. Keep in mind that we are SO much more than a website design service!
Every new client begins with a free consultation. We provide analytics to show you the results that you are achieving with your current plan and then decide on the best strategy going forward. Some companies charge high rates and you never see the results from an independent source. We have monthly meetings with clients to review independent data, determine the results and decide on the strategy for the upcoming month. You can see the results of your investment every month. Our goal is to provide a positive ROI for your marketing dollars.
By using analytic technology, we can develop campaigns to cater to your target audience. We'll send your message to those who will be most receptive. Then, we'll review the data to see which content, keywords, or campaign is bringing in the most business.
Ready to start a conversation? Call us at 336-245-1640 to talk to us. Whether you have an existing or a brand-new business, conversionMOXY can help you succeed.