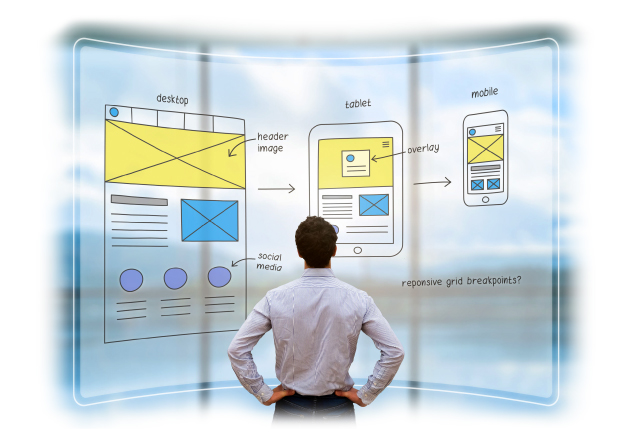 A Web Presence Strategy Is Essential for Digital Success
You're not getting the visits to your website that you want. You launched your site months ago, and it feels like nobody cares. Sound familiar? It happens all too often to companies who deserve website traffic. So, why do unique businesses, innovative companies, and experienced service providers suffer from a lack of web visits? Unfortunately, there's a good chance it's because your web presence strategy isn't up to snuff. Luckily, it's never too late to fix it. However, you will need a savvy web presence strategy to guide you. Read on to learn what that tactic should include.
What to Include in Your Web Presence Strategy
First things first. Your professional website will not exist in a vacuum. Rather, it is one part of a comprehensive digital marketing strategy you'll need. Indeed, having a strong online presence involves much more than just hiring a company to handle your web design. Instead, your digital strategy will first require that you identify your target audience. From there, you'll need to plan your online content. Your online content should incorporate:
Blogs
SEO Strategy
Social Media (Facebook, YouTube, Twitter, LinkedIn)
Inbound Marketing
Content Marketing
Professional Website
All these elements can improve your web presence, and boost its search engine ranking.
How Do I get Started with a Website Strategy?
Unless you've got a lot of time to invest in learning website design, SEO strategy, social media marketing, and analytics, hire a professional. Digital marketing companies can be worth their weight in gold when it comes to developing a robust web presence strategy.
At conversionMOXY, digital marketing is in our DNA. Day in and day out we help businesses in dozens of industries. Whether you need a comprehensive digital plan created for your business, or you've developed your strategy and need help executing, we can help. We know that strategy + solutions=business growth, and we're ready to get to work for you. Our team's expertise can be broken down into three categories.
ConversionMOXY's Digital Marketing Strategy and Consultation
You can count on our team to help you build your online presence from scratch. Alternately, we can come in at any stage in your digital marketing strategy as your partner. Our consultation and strategy services include:
Target Audience Guidance
Marketing Strategy and Consultation
Brand Awareness Development
Evaluation of Competition
ConversionMOXY's Website Design and Online Presence Building
Our team of designers, IT specialists, writers, content managers, social media marketers, a creative director, content editors, and project managers are at your disposal. Collectively, the conversionMOXY team provides the following design and build services.
Professional website design
Local search engine optimization (SEO)
Google AdWords
Inbound marketing
Social media marketing
Digital advertising
Google Map Pack
ConversionMOXY's Tracking and Reporting
The only way to know if your web presence strategy is a success is through meticulous tracking and reporting. Tracking and reporting allow you to see what content is getting noticed. Likewise, it allows you to see the results of your content marketing shared on social media platforms. Viewing reports shine a light on your most popular blog of the month, and much more. In sum, analysis of reports and tracking are vital to web presence management.
ConversionMOXY's digital marketing tracking and reports help answer these questions:
Exactly what is your target audience thinking about?
Which aspects are website visitors most excited about?
What is helping drive new business?
Using reports and tracking to determine the answers to these questions, allows you to modify your strategy. It allows you to see if you need to focus more effort on a blog, or if you need to spend more time on Facebook or Twitter. Tracking and reporting give you unprecedented insight into what you're doing right online, and what needs improvement.
FAQs About Creating a Winning Web Presence Strategy
Some questions regarding digital marketing, SEO, social media marketing, content marketing, and brand awareness are asked more than others. Here we've provided answers to some of them. If you don't see your question below, please reach out. Give us a call at 919-825-3197. Or, you're also welcome to request a quote online and we'll get right back to you!
How can you increase your website presence?
Hiring a professional, reputable, results-driven digital marketing company is the best way to bulk up your online presence. Consequently, it's also a smart investment for growing your business. At conversionMOXY, we provide not only strategy but the execution. Our team can provide all your written needs as well as design, and SEO needs. In other words, you don't need to stress about writing your monthly SEO blog or ensuring your social media posts are shared every week.
Can content marketing help with SEO?
Absolutely, positively, yes! Content marketing is crucial for increasing your search engine ranking. Our team at conversionMOXY can help create the content you need that will drive your ranking up.
Do I need a digital marketing company to improve my web presence strategy?
Truthfully, no. If you want to learn precisely how search engines rank websites, how to design a website that wows, and how to utilize tracking and reporting, you can get started. Just don't forget that you'll also need to design and create AdWords for Google, digital advertising campaigns, and social media. You'll need to write, host, and post your own blogs. And you'll need to also have the time to run your business. So, while you may be able to do it yourself, it's best to trust the experts.
Do you offer a free consultation for digital marketing services?
You bet we do. All initial consultations are free of charge. ConversionMOXY can custom tailor a web presence strategy to meet your goals. Whether you need help with a website design, your blog, your social media marketing, or SEO, we can help. Request a quote from the experts in digital marketing from conversionMOXY today! We can't wait to partner with you to create a winning web presence strategy.