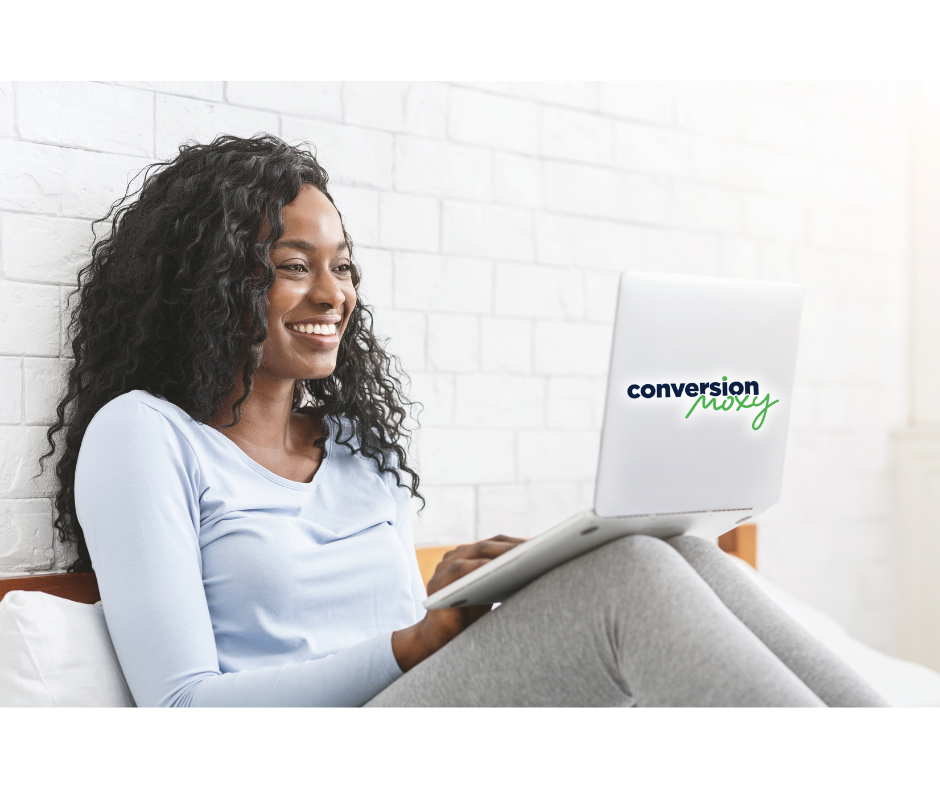 Our Local Online Market Company Can Grow Your Business
As a small business owner, you might be wondering if hiring a local online marketing company is worth the money. If you've tried digital marketing yourself, you know how frustrating it can be. It can feel like you're throwing your money into a big black hole of the internet.
The key is to find a digital marketing agency that focuses on getting results. Here at conversionMOXY, we maximize every dollar your spend. Our goal isn't simply to get you more visitors, likes, or clicks. After all, you can't grow your business with pageviews alone. Instead, our focus is on conversion. We turn your digital activity into sales, so you can see a bigger return on investment (ROI).
Your Digital Home – An Optimized Website
The first step in marketing your business online is to ensure you have an optimized website. Think of your website as your home base, with all roads leading back to it. You probably already have a website, but is it set up for success? The idea "if you build it, they will come" just isn't true. Your website has to be optimized.
Our digital marketing team builds a website that's easy to navigate and works on all devices. We create pages to perfectly highlight your more important services or products. Then, we lay out the pages in a way that optimizes conversions. We'll use forms, buttons, pop-ups, and other conversion tools to capture leads so you can connect with local customers who are visiting your website. One of the biggest mistakes businesses make is not capturing these leads. If customers are spending time on your website, they are interested in whatever you have to offer. You want a way to contact them to close that sale.
Once your website is optimized for conversions, we'll then make sure it is optimized for Google. Yes, your website has to be attractive to real humans, but if you don't consider how a search engine "sees" it, you're going to miss out on sales. Google has over 90% of the market share when it comes to search traffic, so we focus on them first, but other search engines can be important for your traffic as well.
Goggle and other search engines care about the content on your pages (more on that next), but they also care about your website speed and organization. In other words, when a local search query comes into Google, they want to be sure they are recommending websites that are both relevant and easy to understand. We'll make sure Google sees your website as a high-quality source of information.
Creating Content Your Customers and Search Engines Love
Having a fast website that looks great is just the first step. Next, you'll need to fill your website with content that attracts the right local customers. We do this through optimized content.
Search engine optimization, also known as SEO, is the best way to attract more visitors who are searching for the products or services your business provides. As part of your website design, we'll develop an SEO strategy for your business. Our experienced team will do keyword research to figure out how to best connect with people who want what you offer. Then, our writing team will create content that search engines love.
This isn't about simply stuffing your pages and articles with keywords. Instead, we'll use industry-standard practices and tools to create content with the right number of keywords, as well as associated keywords that tell search engines exactly what your business is about.
Search engine marketing can bring in organic traffic over the course of months or even years. However, organic SEO does take time. Search engines like Google don't automatically pick up on new web content. That's why we recommend content marketing as a long-term strategy paired with options that give you immediate results, such as paid advertising.
Digital Advertising that Really Works – Stop Throwing Away Your Money!
When you work with any digital marketing agency, you'll receive the option to set a monthly ad budget. It can be scary to commit even more money to digital ads, especially if you haven't seen great results in the past.
But here's what you might not know: digital advertising is a skill you hone over time, and it takes years of practice to get it right.
In other words, if you've tried running a Facebook ad in the past and saw nothing come of it, don't despair. With the right team handling your ads, you can see a huge ROI! Here at conversionMOXY, we have experience running digital advertising campaigns for not only Facebook, but also Google and other online advertising venues.
We already know what works well as a basic place to start for any business. However, as we continue to run your ads, we'll fine-tune them specifically for your business to get better and better results. We track and report the results so it is easy to understand what's working and what's not. This is not something to set and forget. When you have an experienced digital marketing agency running your ads, you'll see a better return on investment over time.
Whether you are trying to attract customers from around the world or want to focus on a local market, we can create ad campaigns that work. No more throwing your money into that digital black hole!
Local Marketing for Service-Based Businesses
One of our specialties is helping you find the target audience that makes the most sense for your business. For example, let's say you own an interior decorating business in North Carolina. It doesn't really help you to get website visitors from Ohio or California or even another country. You need to attract a local audience so you can turn those website visitors into actual sales.
This is when many digital marketing services fail. Often, marketers don't have the experience you need to find a local audience. They show impressive traffic numbers, but you can get a million new pageviews and it doesn't matter if none of those website visitors turn into leads and sales. When you work with conversionMOXY, we'll start by determining exactly who your target market is. Then, we'll create an advertising, social media, and SEO strategy to specifically target those people.
For local businesses, this includes the following:
Making Sure You Rank with the Google Local Map Pack
When you search, Google will sometimes show you a map with local businesses relating to your search. Try it right now for any local business as an example. If you search "hair salons" on your phone, it isn't going to show you hair salons for another state. It's going to show you local hair salons and will probably even have a map to show you which hair salons are closest.
We can help you pop up in one of the first few results for select keywords. There are two parts to making this happen. First, we have to fill out your information with Google so they know you are a local business with information to display such as your phone number. Second, you need to indicate your business type. We do this as part of your web design and content marketing strategy by identifying the keywords related to your business. In our example of "hair salons," we would also probably want to tell Google that you are a "beauty salon." Depending on your services, we might also want to tell Google that you are a "spa," "nail salon," or "barber shop."
Setting Up Geofencing
With geofencing, your customers will receive a smartphone notification when they are close to your physical location or anywhere it makes sense to reach your target audience with an offer.
In most cases, it makes sense to set up geofencing to give people offers when they are near your location or even in your store (if you sell physical products). For example, you could offer people a 15% off coupon if they spend $100 or more while shopping. This is a very effective digital marketing strategy if someone is in your store and sees the offer. After all, they might have been on the fence about a larger item that would push them over the $100 mark.
It might also make sense to set up geofencing at local events where you have a presence. For instance, if you are a lawn care company, you might set up geofencing to tell people at a local trade show to visit your booth for a 10% off coupon. Getting that in person connection with people can do wonders for your brand awareness. You always remember businesses better when you have that personal one-on-one time with a passionate employee or owner.
Researching Keywords for Localized Content Marketing
Keyword research isn't always easy. Our local digital marketing team uses professional tools to find what people are searching as it relates to your business. However, we go a step farther if you have a business that relies on local customers.
For example, your customers might be searching for "restaurants near me" to find local places to eat. What do they search for with "near me" that relates to your business? This is a crucial part of your local SEO strategy if you want to attract local customers.
Remember, people often use their mobile devices to search while they are out and about. Any local online marketing company who isn't helping you rank for "near me" keywords is doing you a disservice. You'll never reach your local market if you don't know how to rank for these keywords.
Our Local Online Marketing Company Understands Social Media
It's just Facebook, right? Well, even though it seems like everyone has Facebook, marketing on Facebook and other social networks isn't as easy at it sounds. Our social team know exactly how to use social media to attract more engagement, clicks, and leads.
We start by figuring out where your target market likes to hang out online. For some businesses, Facebook just isn't the answer. You might have better luck reaching people with LinkedIn, Instagram, Twitter, or even new social networks like TikTok.
Even if Facebook is your best option, like it is for many businesses, you'll need to figure out the best methods to reaching the right people. Beyond starting a page, should you start a group? Interact in other groups? Run ads? Upload videos? We'll help you figure out how to spend your time.
After all, you can sink hundreds or even thousands of hours into Facebook and other social networks. We'll take that task off your hands so you can do what matters instead: run your business. As a business owner, you don't want to spend so much time working on mundane tasks that you don't have any time to work on the high-level tasks you can do. Let us take over this work for you!
Hire A Local Online Marketing Agency You Can Trust
When it comes to your digital marketing, you really need to choose a company you can trust. Otherwise, you won't see any return on your investment, and you might even lose money. Here at conversionMOXY, we protect you in two ways:
We track your results and provide a full report so you know where your money is going. We'll go over your report in a monthly review meeting.
Our team has experience getting results for our clients. We provide a real-time client dashboard so you can log in at any time to see your conversions.
If you're interested in learning more about how we can help you, click the button above to request a free quote today! We'd love to speak with you more about how we can help you increase your brand awareness and find more local customers.