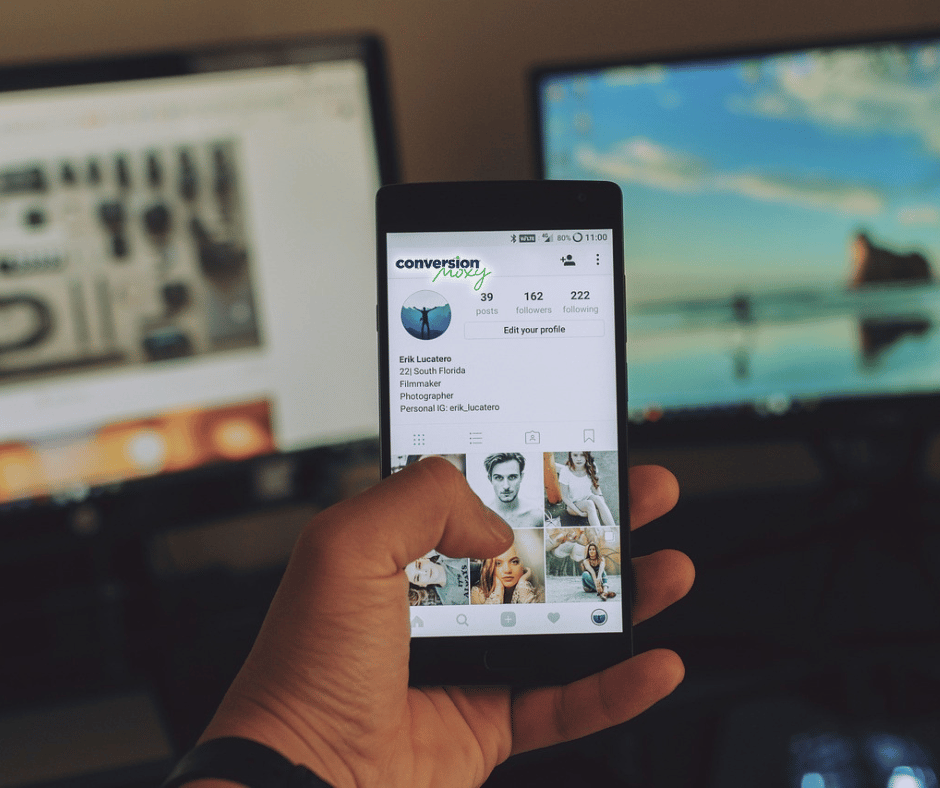 8 Reasons to Hire a Social Media Marketer Today!
If you own a business, then you are likely on at least one social media platform. As a business owner it might seem like a daunting task to keep up with your social media profiles and reach the audience you need to engage. That is why a social media marketer is a great investment to help grow your business!
It might be tempting to try running your social media profiles on your own, but that prevents you from all the growth possible for your business. At conversionMOXY, our expert team is ready to help your business thrive on social media! We treat businesses as if they are our own. Thus, we are very passionate that they succeed!
Don't want to wait to get the marketing help you need today? Call us at 800-849-5642 to discuss your unique social media needs and vision. Once we hear more about your business and goals, we will give you a free, no-obligation quote.
Need more information? We discuss all things social media in our blog below. Read on to find out more about this powerful marketing tool.
8 Reasons to Hire a Social Media Marketer
Did you know that there are around 4.9 billion social media users around the world? That equates to almost 61% of the worldwide population. In today's digital world that means you can't afford to not reach those people and share about your business.
As mentioned above, you might be toying with the idea of handling social media yourself. But we encourage you to not do that for many reasons. A social media marketer is experienced in this particular form of marketing and will build your platforms to their maximum potential.
Below are 8 reasons to hire a social media marketer.
Saves you time to focus on other important aspects of your business.
They track all new trends and apps available in the social media realm.
You don't have to worry about knowing what to post and when.
Your business will have an abundance of opportunities to reach new potential customers.
They will create a social media marketing plan that ties in seamlessly with all your other marketing efforts.
Your content will be fully optimized to help your search engine optimization (SEO) efforts.
Every opportunity will be taken to link back to your website and blogs to direct traffic there.
Your social media pages will have beautifully created content – from posts to reels to stories.
Hiring a marketing professional to handle your social media allows you to take that stress and task off your already full plate as a business owner.
Frequently Asked Questions About Social Media
Does social media have you questioning everything from what to post and how to engage customers? You aren't alone! That is why it is vital to hire an expert that understands all the ins and outs of various social media platforms. We've put together some of the commonly asked questions as they relate to social media and hiring an expert team like ours. Call us today at 800-849-5642 to get on the right track with all your social media pages!
What is the future of social media?
This is a big question. As with any technology everyone wants to stay ahead of the curve. Unfortunately, there is no immediate answer as it is always changing. Some things that are currently trending and likely won't go away anytime soon include:
Reels and videos
Stories
Interactive content
Can I advertise my business on social media?
Absolutely! We highly recommend to businesses we work with to advertise on social media. Unlike other advertising options like Google Adwords and print ads, it is extremely cost effective. We work closely with each client to set social advertising campaigns. Some things to consider when determining those campaigns include:
Target audience
Budget
Content
How much does it cost to hire a social media marketer?
This will vary drastically depending on a variety of conditions, such as, how many social pages you need managed and the type of content you'd like on your social pages. Once we discuss your marketing strategies and plans, then we will create a customized no-obligation quote that details our costs. We can also discuss ad budgets at that time to incorporate that into it as well. This way you have an all-inclusive quote and won't be guessing about any expenses related to social media.
Which social media platform is best for my business?
We hear this question a lot! The answer is very specific to your business offerings and target audience. When we do our consultations, we typically discuss your target audience in length as this will give us the best idea on which social platform is best for your business. Each social media platform has it's own demographic, whether that is female or male or younger or older.
Hire conversionMOXY Today So Your Social Media Will Thrive!
As another year comes to an end, you likely are reflecting on if you need to hire a social media marketer or not. If you want your business to stay current, show up on all the search engines, and have customers engaged on social media, then the answer is yes! Don't wait any longer to get the marketing help you need. Contact us today by calling 800-849-5642 to discuss all your social media needs.
Be sure to follow us on Facebook and Instagram for marketing tips, including some do's and don'ts of social media!