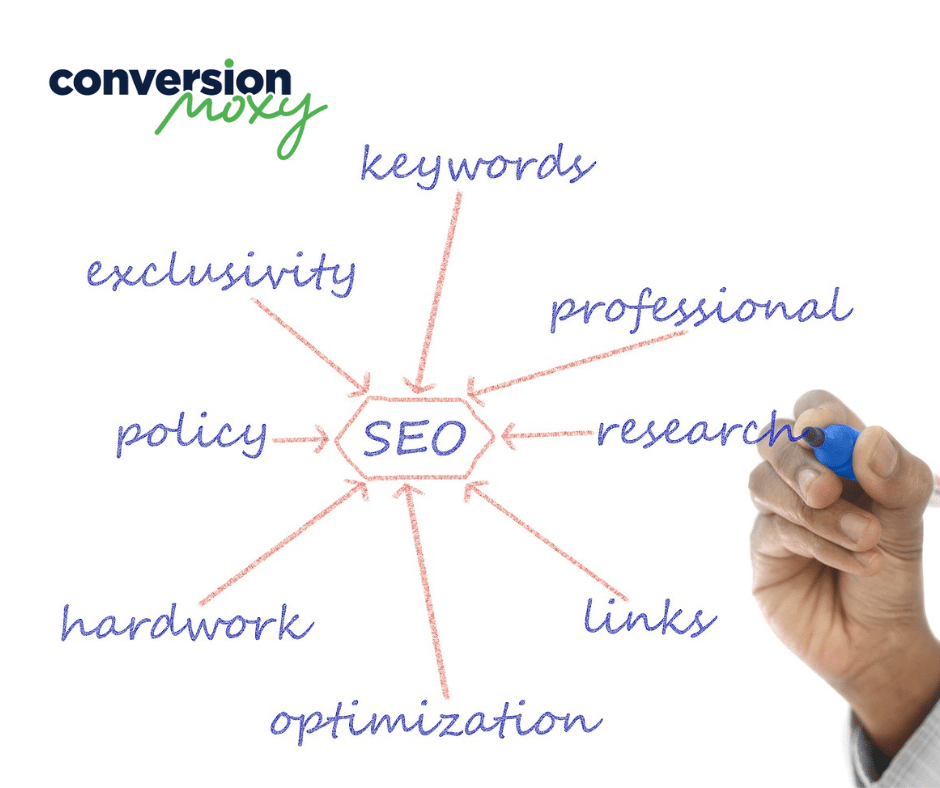 Is SEO Still Relevant in 2023?
Search Engine Optimization, also known as SEO, has been the way to get found on Google and other search engines for decades. Since many technology companies tend to come and go over the years, for example MySpace, it isn't surprising to wonder, is SEO still relevant in 2023?
The best way we can answer this is to compare this to another question. Are red and green still relevant Christmas colors? Absolutely. SEO similarly is still a classic. It remains an essential way to stay as a top listing on Google.
Not sure where to start with SEO? Never fear. The expert team at conversionMOXY has decades of years of combined experience when it comes to SEO. In fact, we have writers on our team that were involved with SEO from the beginning.
Ready to enhance your web presence and be found on Google? Call us today at 800-849-5642 to discuss your unique marketing needs. We are happy to help and provide you with a free, no-obligation quote of our expert SEO and marketing services.
What is Search Engine Optimization?
Have you heard the term SEO and wondered what that means? It stands for search engine optimization and it is how businesses get their website into the coveted number one spot on Google.
Think of it this way – you spent that time and money on designing and building a beautiful website but if no one can find it what is the point? That is where SEO comes in to help you 'get found'.
Google and other search engines use algorithms to determine how to rank websites on their sites. While no one ever knows exactly what those algorithms are made up of, marketing professionals do have a great understanding of what types of content they prioritize.
Top Five SEO Tips
What do those search engine's algorithms prioritize you might ask? Luckily, conversionMOXY stays current on SEO trends and has some tips for you!
Below are some tips to help your content rank well on Google.
Write in active voice.
Utilize easy to understand language.
Discuss topics that are relevant to your business or industry.
Provide content that people want to read!
Break up your blogs and webpages with subtitles and lists.
These are merely a few SEO tips and guidelines to utilize while writing blogs and webpage content. When you hire SEO experts like the conversionMOXY team, we always write with all the optimization tactics.
Frequently Asked Search Engine Optimization Questions
When you start wondering 'is SEO still relevant in 2023', you likely have many other questions on the topic of SEO. That is why in addition to the information above, we've complied an SEO Q&A section below. Still have more questions after reading those or ready to get started on your own content plan? Simply give us a call at 800-849-5642 and we are happy to help!
What is the future of SEO in 2023?
This is the million-dollar question! Just like search engines do not want to share their exact algorithms they do not share what it will change to. However, we can hypothesize based on current content trends. The biggest component of the future of SEO is providing content that readers want to read and answers their questions, so hyper-focused content will remain a part of SEO most likely for some time.
Which content is most popular in 2023?
In today's fast paced digital world, content that is helpful and entertaining is the most popular. People like to read blogs and articles that answer a question they are searching for online. They also have very short attention spans now. In fact, on average a person spends only 10 to 20 seconds on a webpage. That means you have very little time to grab their attention to keep them reading. So, put your best content at the top and get right to the point!
Can I use AI for my website content?
AI is growing in popularity when it comes to writing. However, we strongly caution when using this technique for SEO writing. Many search engine's algorithms will detect text that is written in AI if it reads like a robot wrote it. This is often the case in AI writing. So, it's important to at least have a real writer or editor review any AI articles before posting.
How often do I need to post blogs?
We hear this question a lot! There is no right or wrong answer as long as you are regularly posting fresh content on your website. For example, even one or two blogs a month is useful. But, if you post only once or twice a year that is not really enough to stay current with the algorithms.
Stop Searching for – is SEO still relevant in 2023 – and Let conversionMOXY Create Amazing Content for You
At conversionMOXY, we dedicate ourselves to helping our clients reach page one on Google! We will work with you to determine what content is important to your business and industry. Then, we will custom tailor all your blogs and web pages to match that content, while remaining optimized.
Stop your search for 'is SEO still relevant in 2023' and call us today at 800-849-5642. After a brief discussion to understand your needs and business, we will provide you with a free, no-obligation quote. This quote will detail our SEO services customized to your business.
Don't forget to follow us on Facebook and Instagram for the latest SEO news and updates and plenty of marketing tips.