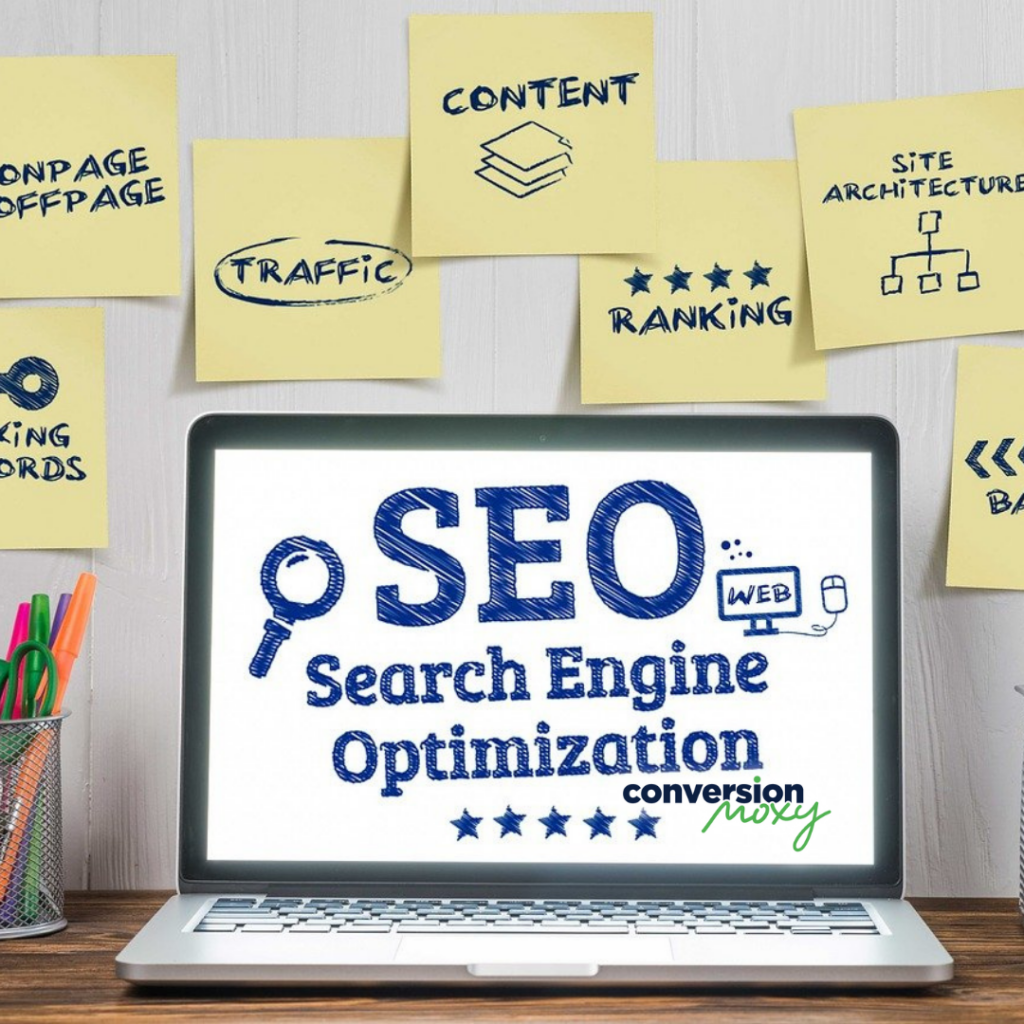 Hire A Profit Focused Search Engine Marketing Company
No matter what type of business you engage in, you need paying customers to sustain your company. Finding these customers and crafting messages to encourages sales is part of the marketing process. Yet, doing this work requires experience and time. Thus, many businesses rely on a search engine marketing company to drive traffic to their website.
Yet, finding a marketing firm to handle all your digital needs can be challenging. Many marketing agencies make promises without delivering results. When you need data-driven outcomes, trust the team at conversionMOXY.
The Difference Between SEM And SEO
Fundamentally, SEM and SEO are closely related. Furthermore, until a few years ago, most marketers thought of SEO as a form of SEM. However, today, many marketers separate SEM into paid advertising and SEO as organic (unpaid) traffic.
Search engine optimization (SEO) is the process of improving your website to increase its search engine ranking. In other words, by following best practices, your chances of landing on page 1 of search results rise. Some best practices include good keyword usage, fast-loading pages, and relevant content.
Using the core principles of SEO, search engine marketing (SEM) is a form of paid advertising. Pay-per-click, retargeting, geotargeting, and mobile search advertising are just some examples.
Quality Score
One of the biggest differences between digital and traditional advertising is the manner of paying for ads. Generally, in traditional advertising, the business with the biggest budget can afford bigger and more prominent ads than smaller companies. However, most digital advertisements use a bidding system based on a quality score. This evens out the advertising playing field allowing small businesses to compete with bigger companies.
Let's take a look at how one popular digital marketing campaign, pay-per-click, works. First, you'll need to decide on the keyword you want to target for the particular ad. The keyword should be one your potential customers use, yet not highly competitive. Generally, a highly competitive keyword requires a higher bid.
Next, you set your bid. Your overall marketing budget will help determine this amount. Additionally, knowing your campaign goals helps determine your bidding strategy.
While the amount you spend to achieve your goals is important, so is your quality score. This is the rating you receive by the platform for a combination of components. Components may include landing page experience, keyword relevance, and expected response from the ad.
Hiring A Marketing Company To Manage Your Campaign
As a business owner, you need to be flexible and adaptable to meet new challenges. Thus, you may be thinking that you can easily manage your advertising campaign. However, SEM presents many unique responsibilities.
First, algorithms, those mathematical formulas search engines and social media platforms use to rank websites and ads, are constantly changing. Some experts claim Google changes its algorithm 600 times per year. While most of these changes are small, platforms do release major changes once in a while. It's important to stay current as algorithm changes can affect your ranking.
Moreover, learning SEO is a steep learning curve. While basic ideas may only take a few months to learn, mastering advanced concepts may take years. As you're taking the time to understand SEO, you're missing out on valuable traffic.
Plus, you can make costly mistakes. Sometimes, your errors can lead to the search engine penalizing you. When your website doesn't show up in results, you lose traffic and potential customers. However, when you hire conversionMOXY, you're hiring an experienced team to help grow your business.
FAQs About Hiring A Search Engine Marketing Company
We want to help you find a reliable, experienced search engine marketing company to grow your business. Thus, we've put together a list of commonly asked questions to help you find the perfect fit.
Why Isn't My Website Showing Up In Search Engine Results?
Unfortunately, many reasons exist as to why your website isn't showing up in search engine results:
Technical issues
Toxic backlinks
Search engine penalty
Untrustworthy site
Some common technical issues include a slow loading time, unresponsive design, poor navigation, or unsecure site. These issues lead to a poor user experience giving you a lower ranking. Moreover, when consumers find these problems, they won't stay on your site for very long.
Another common problem is spammy backlinks. Links from questionable websites challenge the credibility of your site. Additionally, some types of backlinks will also incur a penalty. Paid links are one such example.
Finally, whether you sell directly from your site or collect personal information, consumers want their information kept safe. An SSL certificate gives your website this layer of security search engines demand. You can recognize safe websites by a padlock in the search box and the URL (HTTPS vs. HTTP).
Does Social Media Engagement Help with Ranking?
Having a social media presence can help your SEO indirectly. While posts won't help your ranking, the interactions do generate social signals. Also, your posts can generate more traffic to your website and provide an additional opportunity to gain backlinks.
What Makes conversionMOXY Different From Other Marketing Firms?
ConversionMOXY is a full-service marketing firm with a history of success. Since 2011, our team has helped many types of industries with a portfolio of marketing tools:
Website design
Geofencing
Social media marketing
Backlink audit
SEO
Content generation
Branding
And more!
Plus, we offer a free consultation! Call us today at 336-245-1640 to discuss your goals. Our personalized marketing plan can help you achieve your dreams.