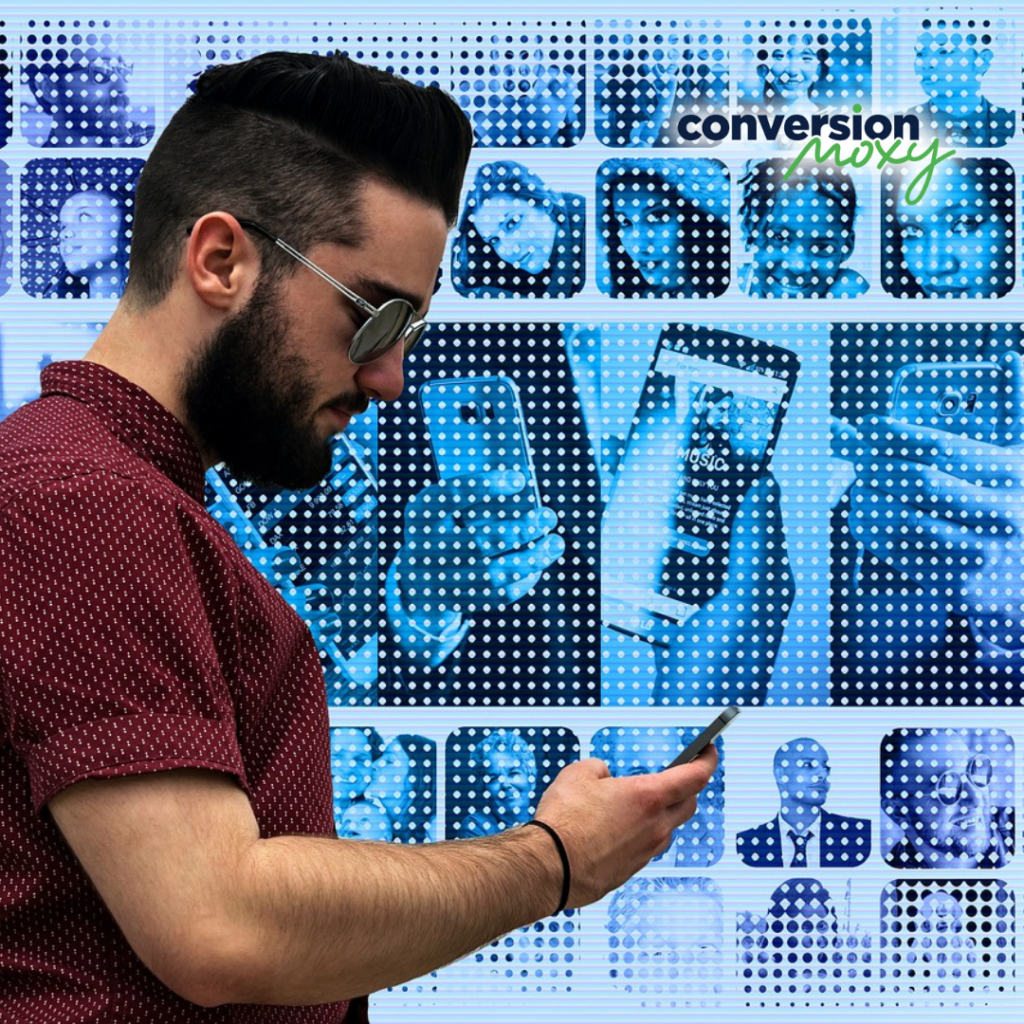 Social Media Advertising Effectiveness Is Startling
Maintaining a competitive edge for your company is an ongoing process. Economic conditions, competitors, customers, and even politics can have an important impact on your bottom line. One way to help your business stay profitable is through social networks. Compared to other forms of marketing, social media advertising effectiveness is astonishingly powerful.
However, like any marketing strategy, you must know your audience, offer value, and analyze incoming data. Using a reputable advertising firm like conversionMOXY can help you achieve a high return for your advertising dollars. Since 2011, we have been helping companies achieve their goals by offering both traditional and digital marketing solutions.
Why Maintain A Social Media Presence?
Millions of Americans use some sort of social media platform daily. Plus, experts expect the number to grow in the coming years. Interacting on a platform keeps you in touch with family and friends and updates them on what you're doing. Moreover, simply having a profile is free and easy to set up.
For a company, having a social media profile allows you to interact with your followers. By responding to comments, you have the opportunity to demonstrate your consideration for your customers. This in turn helps to foster a trusting relationship.
Moreover, you can build brand awareness as your company becomes more familiar to users. Plus, you can receive timely feedback on products and gauge your audience's interest. Finally, you can drive traffic to your website by enticing users with valuable offers.
Why Invest In Advertising On Social Media?
Since maintaining a presence on social media is free, you may be wondering why you need to invest in advertising. Typically, the more popular the platform becomes, the lower the organic reach. Some experts estimate the number of people you can reach for free on Facebook hovers around 5%. For Instagram, that number is a bit higher at 20%.
However, when you invest in advertising, you can reach new people. Many social media platforms let you specifically target people based on hobbies, location, interests, or professions. Thus, you can introduce your company to people who might otherwise never discover you.
Moreover, social media ads are highly effective. A properly constructed ad can experience a high click-through rate with a solid return on investment. In particular, nearly half of social media users (48%) have reported they bought a product after seeing an ad.
FAQs Concerning Social Media Advertising Effectiveness
Investing in any marketing strategy can raise many questions. Thus, we've answered some social media advertising effectiveness questions below to help you decide on the best option.
What Type Of Industries Can Benefit From Using Social Media?
Ultimately, virtually any business can benefit from maintaining a presence on social media. When you place advertisements on social media, you can quickly build a positive reputation with many supporters. Furthermore, compared to other forms of advertising, it's relatively inexpensive. Plus, social media advertising allows you to compete directly with big brand names.
Certainly, one of the biggest winners of social media advertising is the restaurant industry. A very popular type of post is pictures of food. For example, on Instagram, users post hundreds of millions of food posts per month. Food posts are very popular on Facebook as well.
However, creating a post that generates interest requires marketing experience. At conversionMOXY, we're experienced at helping restaurants achieve success on social media. Some of the Facebook accounts we manage are Mario's Big Pizza, Tony's Big Pizza, and Frankie's Big Pizza. We also manage the Instagram accounts for both Mario's and Tony's.
Why Are Hashtags Important?
While you can use hashtags across platforms, some social media networks rely on them more than others. Similar to keywords, your choice of hashtags can have a great impact on your post. Additionally, the optimal number of hashtags varies by platform.
Simply, hashtags are a word or combination of words preceded by the "#" symbol. Social media platforms use them to categorize content. Audiences use them to find, engage, and discuss a particular topic.
Ultimately, businesses can use hashtags to engage their customers and increase their posts' impact. Moreover, using a branded hashtag can inspire user-generated content to help spread the word about your business. A branded hashtag is a short, easy-to-spell group of words associated specifically with your company.
For example, you can encourage customers to post pictures of your product using your branded hashtag. To encourage posts, you can offer a coupon code or build a contest around contributors. This user-generated content can reach new audiences, increase engagement, and lead to more quality followers.
Is Facebook The Best Platform?
Certainly, the benefits of advertising on Facebook are undeniable. First, it's the largest social media platform today with more than 1.8 billion daily active users. Secondly, you can hyper-target specific groups by characteristics, interests, behaviors, and more. Finally, Facebook offers a variety of advertisement formats such as images, videos, and carousels.
While we generally do advise having a Facebook page, we always research and choose platforms that reach your target audience. This may be Facebook or some other social media platform like Instagram, Pinterest, or Twitter.
How Can I Learn More?
Often, you may have some questions specific to your company. Thus, conversionMOXY offers a free consultation to review your business and discuss your particular marketing issues. After reviewing your current strategy, we'll devise a plan for your budget and needs. We offer a portfolio of solutions including website design, content generation, backlink auditing, and geofencing.
If you've been thinking about advertising on social media, now is the time to act. Call us at 336-245-1640 to set up your appointment.