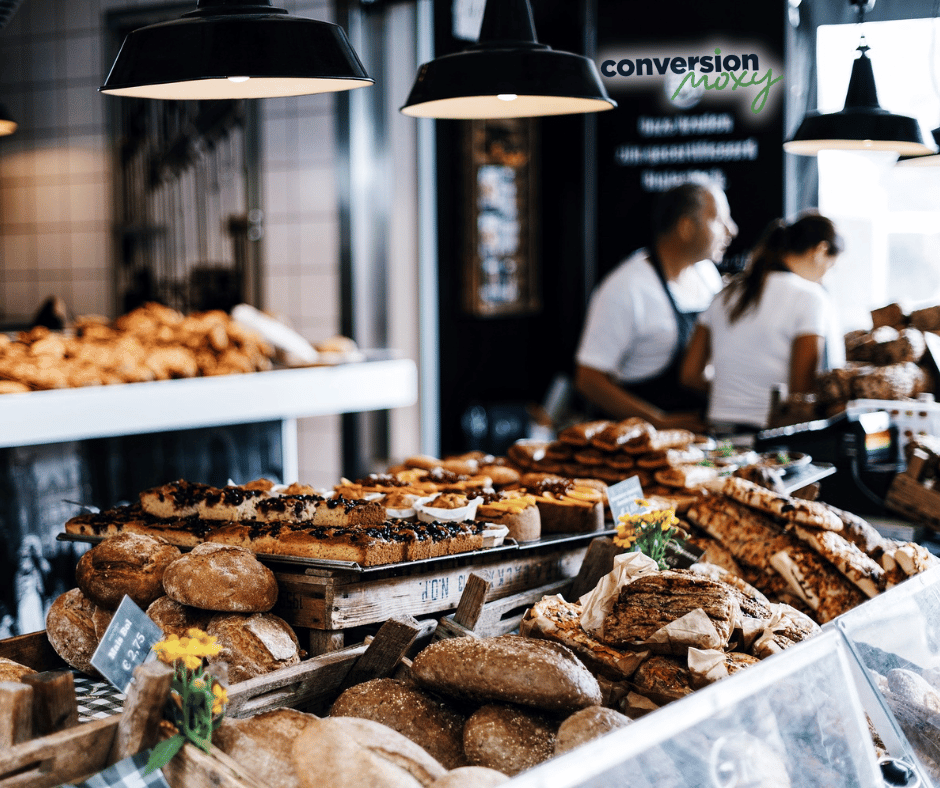 Need Help with Your Bakery Marketing Plans?
Are you trying to determine bakery marketing plans for your brand-new business? Simply, searching for and knowing you need this important piece is a great first step!
You don't have to be in this process alone either. Our experienced and professional marketing team at conversionMOXY is ready to help you!
Check out our blog below that helps you layout a basic marketing plan for your bakery. If you are ready to move your marketing forward today, then call 800-849-5642 to speak with our knowledgeable team. You can also reach us by completing our quote request form.
Starting Your Bakery Marketing Plans
Before diving in to setting a marketing plan for your bakery, we want to first cover why you need one. Every business venture needs a plan for all aspects of it to thrive. Marketing is no different. Creating and following a solid marketing plan sets your business up for success!
Now, you are probably wondering what your bakery marketing plan should cover. Read on!
Seven Items to Cover in Your Marketing Plan
If you've seen or heard of a marketing plan, then you might be worried it is something very complex to create. Luckily, that's not entirely true. It just requires some time, thought, and effort. As a business owner, you have limited time. Thus, that's a great reason why to work with a marketing agency to set your plan. They will make sure you don't miss any key components.
However, it's a good idea to lay it out in advance or at least know what your bakery marketing plan should include. Below are the top seven things a marketing plan should cover.
Define target audience
Establish pricing for products and/or services
Determine all marketing platforms you would like to use
Set advertising budget and methods
Create timeline for marketing efforts
Break out any processes or procedures, especially if you have a marketing team or agency
Set up tracking methods and reports
Must-Have Marketing
There are a few marketing methods and platforms that are almost a requirement in today's digital world. The ones listed below are ones that you need to focus on most and some items that help.
Website

Mobile friendly
Easy to use
Eye-catching images

Social Media
Directory Listings

Google My Business/Google Maps
Yelp
Trip Advisor (This is great for bakeries so people visiting form out of town can easily find out about your business!)
While these are the top ones to be sure you work into your bakery marketing plans, other vital marketing efforts include:
Blog
Digital Ads – on Google or social media
Print Ads – depending on your marketing budget and needs
Partnerships/Collaborations with local businesses & influencers
Promotions/Giveaways – to entice new customers
Frequently Asked Questions About Bakery Marketing
If you haven't picked it up from our blog, a bakery is no different than any other business in the sense that you need marketing! If you still have questions about marketing plans, then check out these commonly asked questions we hear below. Don't wait any longer to start your marketing and grow your bakery. Call conversionMOXY at 800-849-5642 and we will help you create a great marketing plan unique to your business.
How much do conversionMOXY's marketing services cost?
At conversionMOXY, we pride ourselves on customizing our services for each client. We do this as we know every business has unique marketing needs. Therefore, we do not have one specific cost for our services.
After an initial consultation where we discuss all your marketing needs and budget, we provide you with a no-obligation, free cost estimate.
Why should I choose conversionMOXY to help with my marketing?
At conversionMOXY, we treat your business as if it were our own. Your successes truly are our successes. We want nothing more than for your business to thrive!
We are also your one-stop shop for all marketing efforts and even POS systems. Once we help you craft a marketing plan, we are extremely capable of carrying out that plan in its entirety. From building a gorgeous website to managing social media, we have an experienced team that can handle it all!
How will I know what social media platforms to focus on in my marketing plan?
Establishing your target audience is a great first step in determining what social media platform to focus on for your business. That is because each social media platform has its own demographics it caters to.
For example, 61% of men on social media use Facebook but only 36% of men use Instagram. Another factor is age – 77% of ages 30 – 49 who use social media use Facebook versus 48% in the same age group use Instagram.
Therefore, you need to determine some key demographics for your target audience, such as:
Gender
Age
Ethnicity
Income
Where they live – i.e. urban vs. rural
Share With Your Community All Your Bakery Has to Offer with a Comprehensive Marketing Plan
A marketing plan is basically your blueprint for all your marketing efforts. It should lay out what you need to do and how. This is an important start to any marketing so it's vital to have a good one.
Don't worry, conversionMOXY is ready to assist you in creating the best marketing plan for your bakery! Call 800-849-5642 today to talk to our professional team of marketers. We will work with you to be sure the word is spread about your bakery to bring in customers!
Follow us on Facebook and Instagram for a variety of marketing tips and industry-related news.