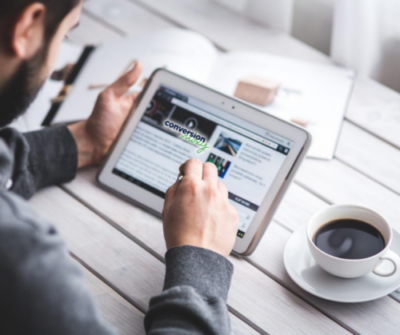 Why You Need A Great Content Marketing Blog Strategy
Anyone who has a website or has been involved with digital marketing knows the phrase, "Content is king". Originally, the title of an essay written by Bill Gates, it explored using the internet as an advertising medium. However, these few words have come to summarize the importance of delivering interesting, relevant, and high-quality information. Usually, presenting this content takes the form of blogging. Yet, like any successful plan, you need to have a content marketing blog strategy.
Essentials Of A Blog
No matter what size business you have, big or small, you can benefit from content creation. However, you need certain essentials to attract the attention of search engines. Skipping steps or missing a component may result in writing blog after blog with no increase in traffic or conversions:
Know your ideal customer
Do keyword research
Strategically internally and externally link
Strong CTA
Blog consistently
By starting with your ideal customer, you'll know what type of content to create. You'll understand the types of questions they have, giving you ideas for blog topics.
However, simply writing about subjects important to your customers won't give you a ranking on search engines. This is where keyword research is crucial. You need to use terms used by your ideal client that correspond to your topic. Once you find your keyword, you need to incorporate it into the body of your article and meta tags.
Another component of your blog is link building. Linking to an outside source helps builds trust and demonstrates expertise in connecting to authoritative sources. While linking to other pages on your site helps the search engine to determine the relationship between your content.
Furthermore, while publishing great information is part of a blog's purpose, you also want to engage readers. This is where your call to action (CTA) converts users. Using a strong CTA will encourage readers to take the desired response.
Finally, publishing blogs regularly can help increase your search engine rankings. First, search engines love fresh content. Moreover, with each article, you have the chance to rank for a new keyword and gain backlinks. Plus, you need a variety of articles to build your authority as a leader in your industry.
Always Begin With A Content Marketing Blog Strategy
In 1994, Justin Hall published the very first blog. Today, some experts estimate that over 600 million exist including personal, lifestyle, travel, and food blogs. Blogging has also become an important marketing tool for businesses.
Sometimes, companies will start with content generation with no clear content marketing blog strategy in mind. Often the goal is to simply create as many blog posts as possible to achieve ranking in search engine results.
While generating large amounts of traffic is obtainable with blogging, you must also convert some visitors into customers. Talking too much about your company without giving any valuable information will quickly drive off users. Moreover, without a plan, you may quickly run out of content ideas.
An SEO Audit Can Help Develop Your Content Creation Strategy
A comprehensive SEO audit will uncover any technical, structural, on-page SEO, or user experience problems. Of course, any issue can interfere with your site appearing in search engine results. However, to develop a blog marketing plan, you'll need well-defined on-page SEO.
Primarily, on-page SEO involves using keywords, linking, and relevant information in your article. By adhering to best practices, your blog can appear on the first page of search engine results. Moreover, each time you publish a blog article, search engines will crawl and index your content.
Then, using analytic tools, you can discover which articles are resonating with your audience. Thus, you can tailor additional articles around a popular topic. Furthermore, you may be able to find new keywords to target.
FAQs Concerning A Content Marketing Blog Strategy
Are you ready to develop a marketing plan to grow your business? To help you find the right marketing firm, we've answered a few of our most commonly asked questions.
How Much Will A Content Marketing Plan Cost?
Generally, the price of a content marketing plan depends on your company's size, goals, and budget. Unfortunately, many companies will look at the outlay without considering the return. Yet, content marketing typically costs less than other forms of marketing, but generates 3 times as many leads.
ConversionMOXY offers a free consultation to address your objectives. During this meeting, we'll discuss how to grow your business with content blog marketing within your budget.
Does The Blog Design Matter?
Anyone who's come across a blog page that's hard to read knows design matters. Print that's too small, not enough white space, or font choice can all make a blog difficult to digest.
While a blog's content is important, so is optimizing the page for branding, functionality, and readability. Your blog must visually engage readers to entice them to consume your content.
Notably, the content creation team at conversionMOXY can help a variety of businesses succeed. Two of our current content marketing customers are Landscape Solutions & Design, Inc. and Havoline® Xpress Lube of Kernersville.
Can You Help With Other Marketing Strategies?
Absolutely! ConversionMOXY is a full-service marketing agency with a variety of solutions to help you succeed:
Pay per click advertising
Geofencing
Branding
SEO
And more!
However, we're more than just a set of tools. We're a team dedicated to helping your company grow and succeed.
Ready to increase your business? Call us at 800-849-5642 to set up your free no-obligation consultation.