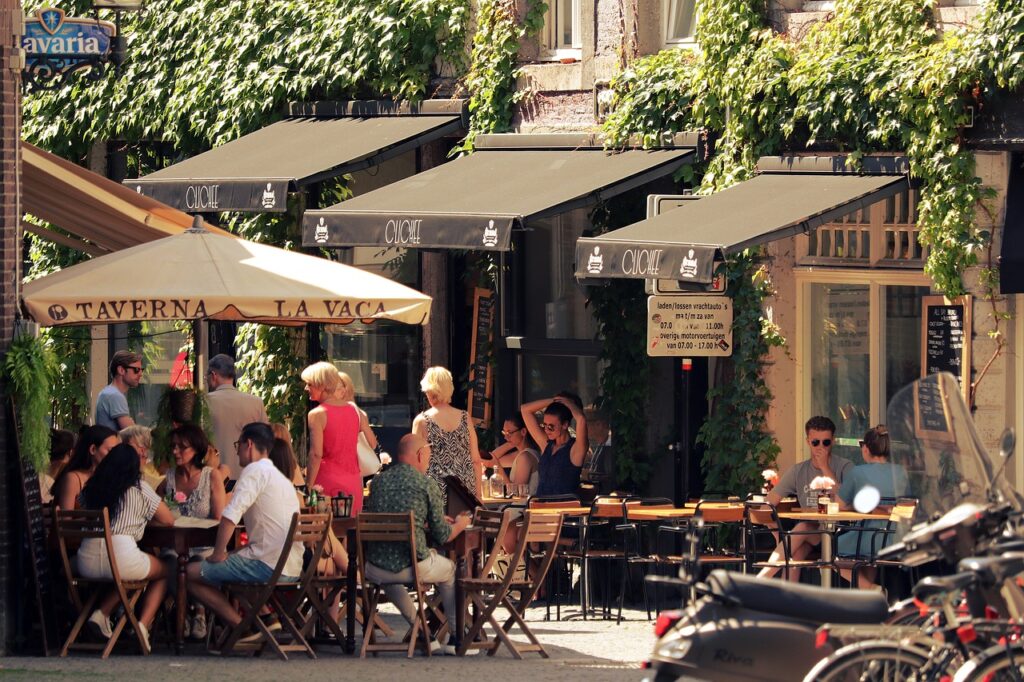 Searching for a Restaurant Marketing Agency? We Can Help!
Why should you hire a restaurant marketing agency to help you grow your business? Simple, an agency that has experience marketing restaurants knows what platforms perform best for restaurants. Plus, they understand the way to reach target audiences with the right message. Restaurants are a unique small business and should be treated as such. After all, you wouldn't market a restaurant the same way you'd market a construction company. At conversionMOXY, we understand the marketing techniques that work best for restaurants and have experience implementing them.
Our latest blog discusses some marketing tips for restaurants and how we've found success in the industry.
Ready to start your restaurant's marketing today? So are we! Give us a call at 800-849-5642 or complete our quote request form to request a free, no-obligation quote.
Now, how does a restaurant's marketing strategy differ from normal small businesses?
What Does a Restaurant Need for Marketing?
Restaurants require a unique type of marketing. Luckily, a restaurant marketing agency, such as, conversionMOXY, understands those specific needs.
What are the differences between marketing a restaurant vs. any small business you might ask? Below are four key distinctions that are unique to marketing a restaurant.
Photography is key.
Regular social media engagement is vital.
Digital menu boards are a must.
Online ordering is a common need today.
ConversionMOXY is a Top Restaurant Marketing Agency – Find Out Why Below!
Now that you know the four unique marketing needs for a restaurant, we want to share how conversionMOXY can help with each item.
Photography
One thing that sets restaurants apart from each other is stellar photography of their food. Restaurants have a very visual product, so it is imperative and makes sense to share photos of those products.
At conversionMOXY, we not only are experts in restaurant marketing, but we also have a team that provides high-quality photos of all your menu items. We take photos that will make your customers' mouths water instantly by merely looking at the images!
Don't believe us? Check out this photo we took for our client, Mario's Pizza, and tell us that doesn't make you want to stop in and grab a slice?
Social Media
In today's digital world, you can not own a restaurant and not have social media. That is how you reach your clients and let them know two things.
That you exist.
Your food is amazing.
While it's free to have any social media account, it does take considerable time to manage social media accounts. You need to post, advertise, and monitor all the accounts. As everyone says, 'time is money'. We know you are busy and that is why we offer full social media management services to our restaurant clients.
When people post comments, ask questions, or otherwise engage with your social content, it's important to not only respond, but respond within a reasonable amount of time. At conversionMOXY, our experienced restaurant marketing agency team handles all of those tasks on your behalf.
Digital Menu Boards
As you gathered from earlier in this blog, photography and visualization are key components to restaurant marketing. Why have boring menus on your walls when you can showcase your food and really want people to order it right away?
Our restaurant marketing team understands not only how to utilize digital menu boards, but also how to make them look appetizing to your customers. Want to add steam to your images for that hot and steamy look? We can do that!
Online Ordering
Ever since the pandemic hit in 2020, online ordering and takeout has boomed. People no longer eat out in the dine-in setting as much anymore. They want the ease and delicious food of dining out, but at the convenience of home. Enter online ordering.
Your restaurant needs not only a platform to allow for online ordering, but one that makes people want to order your food. This means images of your food items on that online menu. It also means you need to spread the word that you offer online ordering through your social media and other digital marketing platforms.
At conversionMOXY, we can help you with your online ordering from setting up the platform to making it stand out.
Restaurant Marketing Frequently Asked Questions
Are you still asking questions about restaurant marketing? Don't worry, below is a list of frequently asked questions. Have more questions? Never fear, call us at 800-849-5642 and we are happy to answer all your questions.
Do you have examples of your restaurant social media marketing?
Yes! Check out these Facebook pages of some of our restaurant social media clients.
How much does a restaurant marketing agency charge?
There is no one set charge at conversionMOXY. We customize all our marketing services to each client's unique needs. When it comes to restaurant marketing, below are some factors that impact pricing.
Services needed
Amount of time needed to implement marketing services
POS system added
These are only a few variables that influence how much we charge. However, after we discuss your needs, we will provide you with a no-obligation, free cost estimate. This will give you a better idea of how much your marketing services with us will cost.
What is the best social media platform for restaurants to attract new customers?
Ideally, it's great to determine your restaurant's specific audience to answer that question. However, if you want to simply reach the most people then Facebook is the best place to start. It is the largest social media platform across the world with 2.85 billion users globally.
Jump Start Your Restaurant's Marketing Today by Calling conversionMOXY!
Are you ready to hire an amazing restaurant marketing agency? Then, call conversionMOXY today at 800-849-5642 to discuss your restaurant marketing requirements. Our experienced marketing team can answer all your questions in the consultation and provide you with a quote.
Don't forget to follow us on Facebook and Instagram. We share many helpful marketing tips, ideas, and industry-specific news there regularly.