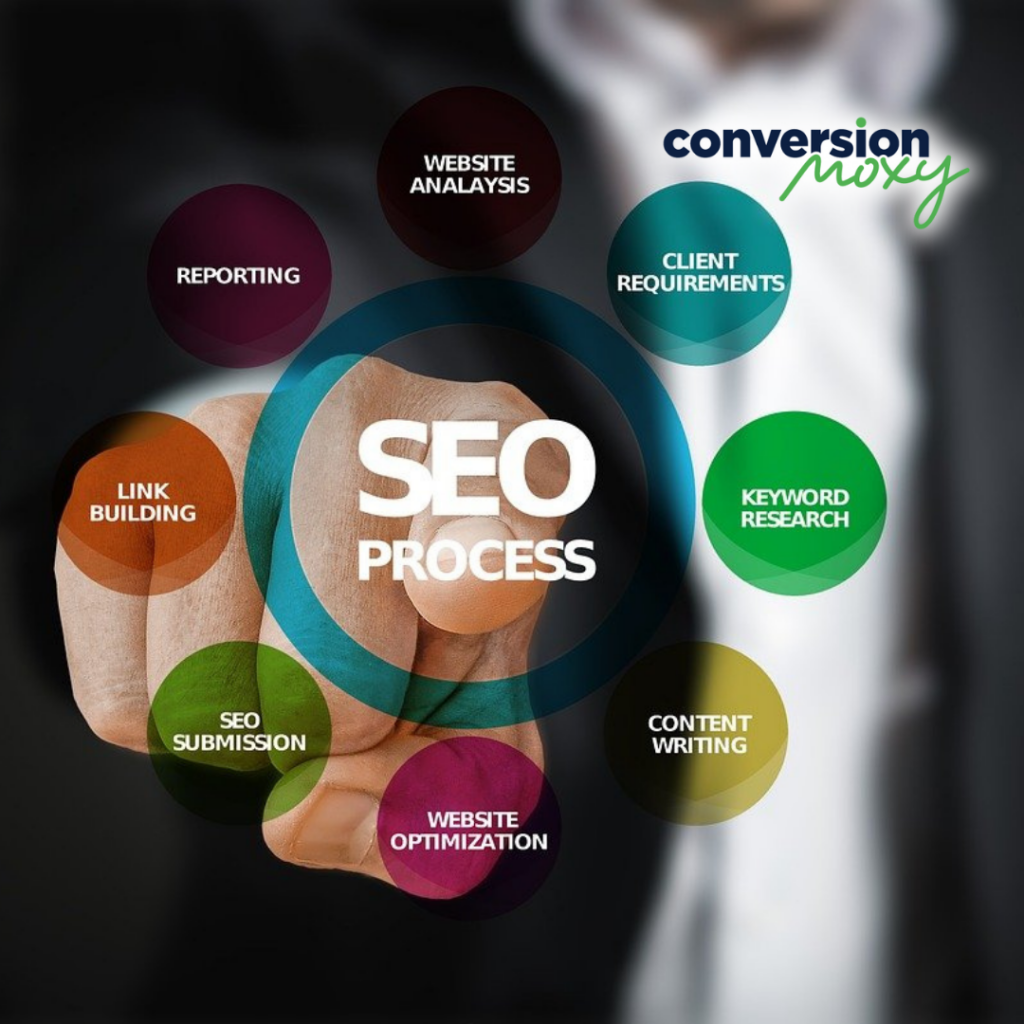 Learn About How SEO and Website Design Work Together
Are you wondering how SEO and website design connect? Is one more important than the other? Do they go together? Is it possible to have one without the other? This latest blog from conversionMOXY answers all that and more.
Our experienced and knowledgeable team knows all the ins-and-outs of search engine optimization and web design. Therefore, you need to look no further than this blog and contacting our team.
After reading this informative blog – or even before if you're ready – call us at 800-849-5642 to request a custom, free, no-obligation quote.
Now, it's time to learn about the digital world of website design and ranking well on Google!
Website Design – How is it Done and Should I Hire an Expert?
When you first establish a business, one of the initial marketing items you need is a website. Why do you need a website? At the beginning of 2023, approximately 5.16 billion people use the internet. Your business simply can't afford to miss out on that large of an audience!
Once you realize the importance of having a website, then you'll need to figure out how to get one. Website design is a complex process. Sure, plenty of sites advertise online how simple it is to use a template and build your own. But, do you really want a subpar site that is not easy for your potential customers to navigate? If you answered no, then it's time to hire a web design expert. However, you want a designer that understands SEO and how it factors into designing your website.
Never fear, conversionMOXY is your answer! Our team designs beautiful websites that are also SEO-friendly. Next, we discuss the search engine optimization aspects of web design.
Four SEO Aspects of Website Design
There are four crucial SEO aspects to consider when designing a website. Those are:
User interface (UI) and user experience (UX)
Fully optimized pages
Social media connection
Ongoing content
User Interface (UI) and User Experience (UX)
UI and UX are the more technical side of website design, but extremely important to search engine optimization. Google cares very much about these two factors as it shows the algorithm people not only visit your website, but stay on there.
User interface or UI is all about the interaction between a user and their computer systems, software programs, and applications. Is the website compatible with Android and iPhones? Are there any errors when using on certain browsers? For instance, the site should function the same on both Firefox and Google Chrome.
In contrast, user experience or UX is about a user's overall experience on that website. For example, was the site fast or slow in loading overall. Did photos load properly and quickly? Additionally, was the site easy to navigate?
These questions listed for both UI and UX are ones that you or your web designer need to ask when building a website.
Fully Optimized Pages
There are many factors that play into having fully optimized pages on your website. Below are just a few an expert web designer considers when creating pages:
SEO-friendly content
Alt tags on all images
Internal and external links
Page slugs
Meta descriptions
Page titles
Keywords and keyphrases
Social Media Connection
Believe it or not, social media also plays a key role in search engine optimization of a website. Therefore, it is imperative to not only have social media profiles on the major platforms, but to link to them on your website. It is also helpful to post regularly on those social media sites.
Ongoing Content
Finally, Google and other search engines also analyze ongoing activity on a website in its SEO algorithm. Simply put, a well-optimized site has content regularly posted. Therefore, when designing a website, it's imperative to consider having a blog. Blogs are a great way to keep fresh content on your site reguarly.
Frequently Asked Questions on SEO & Web Design
Are you still wondering about SEO and website design? Our FAQ section below is for you then! If you have more specific questions or are ready to hire our expert team to design a gorgeous, yet optimized, site, then call us at 800-849-5642!
How much does website design services cost?
We do not have one specific cost for our website design services. Why? Because we completely customize every single website to fit each client's unique needs. A few variables that we consider when quoting web design services include:
Number of webpages
Graphics and photography
Type of site, for instance, if it is an e-commerce site
Unique apps or tools
Once we discuss all your needs and budget, we will provide you with a detailed and specific cost estimate.
What type of website design work has conversionMOXY completed?
At conversionMOXY, we have an extensive portfolio of websites we have designed and optimized. We have completed websites across many industries, including:
Automotive
Restaurants
Medical
Entertainment
HVAC
Construction
These are merely a few industries we have built successful websites for in the past.
How long does it take to build a website?
The length of your website design project will depend on the type and size of your website. Once we know more about your project, we will provide you with a tentative timeline along with our free, no-obligation quote.
Let conversionMOXY Handle Your SEO and Website Design So Your Business Will Stand Out!
Look no further for an SEO and website design team. Hire conversionMOXY today to ensure you have a stunning and 100% optimized site for your business. Give us a call today at 800-849-5642 to get on track with a website that is sure to attract and retain customers!
Don't forget to follow us on Facebook and Instagram for marketing tips and news.